Another tragedy in Chibok as Boko Haram kills 10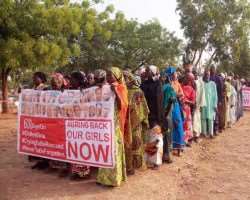 Another tragedy has been enacted  in the northeastern town of Chibok, a town which came into global attention when Boko Haram militants kidnapped more than 200 schoolgirls.
Agence France Presse reports that  At least 10 people were killed when three suicide bombers blew themselves up at about mid-day on Wednesday.
An elderly man from the town, Ayuba Chibok, was cited in the report as saying that  the blasts happenedthe town was packed with traders from surrounding villages for the weekly market.
He said, "They were suicide attacks. The first bomber set off his explosives at the checkpoint where people coming into the town were being searche.
A second bomber managed to get into the market and blew himself up. A third bomber was identified and residents pursued him.
When he realised he was about to be apprehended he detonated his explosives in an area not far from the market."
Chibok said further,  "The casualty toll is not conclusive but so far, at least 10 people have been confirmed dead and over 30 injured."
The blasts bore the hallmarks of Boko Haram, which has repeatedly hit "soft" civilian targets such as markets, mosques and bus stations as well as military and civilian vigilante checkpoints.
Chibok came to prominence in April 2014 when Islamist fighters stormed a boarding school and kidnapped 276 girls, causing global outrage.
Fifty-seven girls managed to escape in the immediate aftermath but 219 are still being held and have not been seen since they appeared in a Boko Haram video in May that year.
Ayuba Chibok described a climate of fear in the town.
"Some people have shut themselves in their homes while others have fled into the bush for fear of more explosions," he said.
"The situation is now tense and there's so much confusion. It will take some time before we can be able to have a clearer picture of the casualties."
Another resident, health worker Dazzban Buba, said he rushed to help his brother who was injured in the first blast in the Bamzir Road area of the town.
The second blast happened shortly afterwards, fitting a pattern of Boko Haram suicide attacks with multiple bombers setting off their devices almost simultaneously.
But Buba said it was still unclear whether the third bomber deliberately detonated his explosives or whether the device was triggered when troops opened fire as he fled.
Buba, who volunteered to treat the injured at hospital, confirmed he saw 10 bodies brought in. The 30 injured were mostly suffering from burns and fractures, he added.
"Twenty-one were seriously injured on admission. Nine have been treated and discharged," he said.
Recent weeks have seen a lull in Boko Haram attacks, with only three recorded in Nigeria this month.
The insurgents raided a village in Yobe state on Sunday, killing one man, while on January 11, another raid in the Adamawa state town of Madagali left seven dead.
Seven people were killed in a raid and suicide bomb attack in Izgeki village in Borno.
Nigeria's President Muhammadu Buhari on December 24 declared the rebels were "technically" defeated but at least 66 people were then killed in raids and suicide bombings in the days following.
On Monday, 32 people were killed when at least three suicide bombers blew themselves up at a market in Bodo village in northern Cameroon.