Rivers PDP Alarmed Over Plot To Kill Its Chairman, Bro Felix Obuah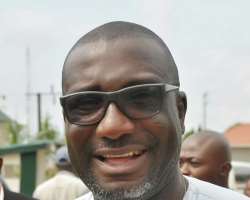 The Rivers State chapter of the Peoples Democratic Party, PDP says it's shocked to learn of the grand plot by certain desperate politicians in the State to eliminate its chairman, Bro Felix Obuah.
Describing the plot as callous and barbaric, the PDP through a statement signed by his Special Adviser on Media and Publicity, Jerry Needam to the hunted State PDP chairman said the All Progressives Congress, APC by this strange and subterranean move has added a new dangerous dimension to party politics in the State.
The statement warned that violence in whatever form remains an ill-wind that blows no one any good and must be discarded for the sake of greater number of innocent Rivers people and other Nigerians and nationals living in the State.
Politics and by extension, democracy the PDP observed, will cease to be the best form of government if it's not devoid of bitterness and blood-letting.
"It's therefore on this note, that the Nigerian government and indeed, all well meaning Nigerians should not turn their eyes the other way over the shocking plot by the APC chieftains in Rivers State to incite crisis in some parts of the State as the re-run State and National Assembly elections approach, and using same as a smoke-screen to pick on those designated for elimination including our State chairman, Felix Obuah", the party warned.
The PDP however commended the boldness of the Omoku Development Initiative for uncovering and raising alarm over the sinister plot by the APC in the State, stressing that any attempt to make real this plot will not augur well for the State.
Everybody while being watchful and alert to such plots by the APC should freely go about their businesses without any fear of unnecessary attack because this State belongs to all of us, the PDP advised.
Signed:
Jerry Needam
Special Adviser on Media and Publicity
To the Rivers PDP Chairman, Bro Felix Obuah
Wednesday, January 27, 2016