Airtel Offers Lifeline To Despaired Man, Family….Fulfills Pledge To Support In Reduction Of Infant, Maternal Mortality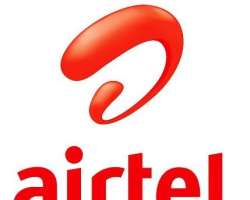 Leading telecommunications services provider, Airtel Nigeria, has given succour to man, Stanley Okerere, who was struck by an unknown sickness that has left him paralysed amidst serious financial hardship confronting his family.
A former driver with an Oil & Gas company in Lagos, Mr. Okereke has been battling with his life since the ailment struck him two years ago..
When the sickness started, his company had intervened but the situation did not improve and he did not get much help from extended family and friends. Okereke's wife, Josephine, lovingly had to attend to him every hour and at the same time fend for the family. There was no money to get medication or to constantly keep food on the family's table. Worse still, their seven year old daughter dropped out of school due to financial challenges.
Moved with pity, Okereke's neighbour, Mrs. Funmi Samson, a nurse, nominated the Okereke family for the Airtel Touching Lives intervention.
Mrs. Okereke shed tears of joy when the presenter of the show, Wana Udobang, announced that Airtel will provide medical assistance for Mr. Okereke with proper diagnosis and treatment and also empower the family with financial capital and equipments to start a catering business.
Also in the same episode, a follow-up of the Telco's support for the Akinbami community located at Iwo road Osun state was aired. In the Season 1 of the Airtel Touching Lives programme, the leading telecoms operator partnered with the Guidance Community Development Foundation and the Akinbami community to build an ultra-modern clinic in the community, providing access to quality health care services for residents of the village.
For many years, pregnant women in the village had no access to healthcare and antenatal services, thereby increasing the risks of birth complications and deaths. Also, preventable diseases such as malaria, fever and snake bites keep claiming many lives of people in the village as villagers had no access to healthcare services.
One of the women in the community who lost her grandchild, recently, said, "If there was a hospital within the community, probably my grandchild and many other children who have died in the village would not have died."
Guidance Community Development Foundation, an NGO committed to assisting rural communities with access to healthcare services, during the course of their work in rural communities, learnt of the appalling situation in Akinbami.
Founder of the group, Adisa Adeniyi Kabiru, who nominated the community had described Akinbami as "one of the worst communities they had ever worked in."
Similarly, Dr. Aderemi Taiwo, a medical doctor with the group, also noted that the community was in dire need of medical services because preventable diseases and minor ailments keep claiming lives in huge number.
Airtel, through its revolutionary CSR programme, partnered with the NGO to uplift the Akinbami community. The company donated baby care cribs, hospital beds, mattresses and other vital medical equipment. The Telco also partnered with the NGO and the community to build a facility that now serves as a clinic in the village.
With Airtel's support to Iwo Road community and the Foundation, there has been drastic reduction in infant and maternal mortality rate, while healthcare services have improved dramatically, according to residents interviewed during the show.
The two inspiring stories captured in the second episode of the on-going television programme demonstrate how Airtel is offering practical relief, succour, hope, opportunities and credible platforms to liberate and empower the underprivileged, disadvantaged and hard to reach persons in the society.
Through the Touching Lives programme, Airtel has been promoting the spirit of giving, self-sacrifice and love among Nigerians.
The 13-episode programme, which features 24 emotion-evoking stories, is broadcast on Sundays on Africa Magic Channel 151 by 7.30-8.00pm. Repeats broadcast is aired on Africa Magic Family 154 on Saturdays 8pm to 8.30pm; Africa Magic Urban on Thursdays 7.30pm to 8.00pm; AIT on Sundays by 6.30pm to 7pm; NTA on Wednesdays by 8.30pm to 9.00pm and Arewa 24 TV on Sundays by 7.00pm to 7.30pm.