Give me stylish, but modest colours…Diko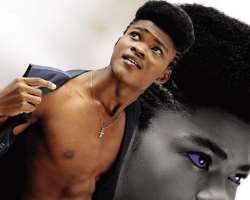 THOUGH a student of Microbiology at the Olabisi Onabanjo University, Ago-Iwoye, Ogun State, Modestus Diko is already taking his modeling career to a higher level, having worked with notable fashion houses and gracing billboards. Aside his modeling, the Imo State native also has his hands in script writing, with Dark Memories, Straight From The Heart and The enslaved virgin girl to show for his creativity. Modest, as he's fondly called, who is on the verge of publishing some of his works, tells DAMILOLA ADEKOYA what fashion means to him.
Definition of fashion
It is about being trendy and stylish.
Style of dressing
Very modest; of course, my name works for me. I design my clothes myself most times, but specifically, I go on t-shirts and nice trousers.
Uniqueness of style
My dressing and my hair; they are always stylish… I treat my hair twice a week.
Position in the family
I'm the second in the family of seven children; my dad is an accountant, while my mum is a businesswoman.
Most expensive item
My manuscripts.
Favorite colour
I love blue and red; they are flashy and I love flashy colours.
Favourite designers
Gucci; he's very stylish.
Stylish Icon(s)
I love Michael Jackson, but locally, I admirer Denrele Edun of Soundcity.
Role models
Michael Jackson; he was very different.
Favourite body products
I love Pears products; I've been using them from when I was a baby. They suit my skin perfectly.
Signature scent(s)
I use any one that comes my way.
Food
I love rice and plantain.
Turn on
I can say music, but basically writing turns me on.
Turn off
Indecency.
Happiest moment
Being born by my mother when she actually did.
Most embarrassing moment
I really can't remember.
Describe yourself in three words
Modest, trendy and creative.
Inspiration
My environment really motivates me, especially in writing.
Philosophy of life
Be steadfast in whatever you do; don't give up easily.
If you were given an opportunity to change something in Nigeria, what would it be?
The perception of we Nigerians is very bad; I will like to change the way we think.