Why I'm crazy about make-up, by Actress/Artist Amaka Ononibaku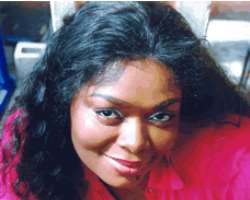 By AZUH AMATUS
Busty actress turned make-up artist Amaka Ononibaku is surely living and relishing her dreams in Nollywood. This is evident in the modest achievements she has recorded so far with both careers.
Although, still acting with a couple of new movies to her credit, the Creative Arts student of the University of Lagos; is steadily investing more of her time and energy in her new-found hobby of always ensuring that stars and celebrities look good, especially at high-octane events.
With a vision to hit the global limelight soon, Miss Ononibaku happily told us, how she's been busy expanding her frontiers within and outside Nollywood, the attendant challenges and many more.
Let's start with some of the new things you're doing for stars and celebrities in the make up world?
First and foremost, I'm giving my make up career all the required attention that it needs and can get now. In fact, things are really moving up for me, since I went into full time make up. I recently did the make up for some leading companies' adverts on TV. I also did the make up for the recently shot music videos of Julius Agwu's forthcoming album. I'm also into the selling of luxury goods and have several stars and celebrities as my customers. Aside the above stuffs, Amaka Ononibaku has been here and there hustling and facing the challenges of life on a daily basis with a strong conviction that God is by her side always and will never let her down.
Why not share some of these challenges with us?
The challenges are basically one trying to make ends meet and survive. I'm into so many things. Aside acting, I'm a make-up artist. I do bridal make-up, photo sessions, weddings and home services. I also do buying and selling of luxury goods and stuffs. I do all these happily and feel very fulfilled doing them. I'm a good businesswoman and also good at marketing as well.
Won't all these clash with your acting career?
No, I still act, but because the roles are scarce these days, you have to do other creative things within and outside the industry. I have been in Nollywood for so many years and have seen it all. I act whenever the roles come, but I don't think I should beg for roles. Besides, being desperate for roles will make one vulnerable in Nollywood. It has never been in my character to beg for roles, if they come I act, but if they don't, I will face my other ventures because I'm versatile and creative.
When did you act last in a Nollywood film?
After I did Corporate Maid, I decided to take a long break because acting for me is not a do or die affair, which unfortunately, most actresses are taking it to be. The rate at which most of them are competing, backstabbing and keeping unnecessary enmities, is not what I can withstand. Please, do not get me wrong in this area, quite alright, we have wonderful actresses and I have my favourites among them, but the industry is no longer what it used to be. People are being given roles now for the wrong reasons and how long will those trends continue? I'm happy and very okay with my new hobby, make up. I have got a great talent and happily making good use of it.
The fact that movie roles don't come your way often; does it weigh you down?
No, besides, I'm not the type that is crazy about being a Nollywood star.
Does it also bother you that most of your contemporaries are up there and making waves with their careers?
I know some of them are up there, but that does not weigh me down. The truth of the matter is that we all have our different destinies and can never be stars at the same time. What I'm saying in essence is that it might work for someone and not you. If things are slow, you should try and divert into something else.
I have re-strategized and delved into other creative ventures within Nollywood. Agreed, the roles were not forthcoming but I did not sulk over it, I moved on. Mind you, my first movie, Deliverance, was in 2000, and the movie made me very popular because of the funny character I played.
I left Nollywood immediately after that role, because my dad vehemently kicked against my staying in Nollywood, and that kind of slowed things down for me. If, I had followed up then, I would have been up there like most of my contemporaries. At least; I was away for over three years. My dad eventually succumbed, but it was too late in my own reasoning. Truth is that for him stopping me then really weighed me down, besides, I was more naïve and younger then. Well, he had his reasons then, but I now realized that what he did then helped me in a way. Maybe, if I had continued then, I would not have been where I am today.
How many movies have you featured in since your arrival?
I have featured in well over 15 movies since my arrival, and Deliverance and Corporate Maid, are still my best for now. I joined Nollywood by visiting Zeb Ejiro's office then, but Andy Chukwu, really assisted me in landing my first role in Nollywood.
Looking back now, what would you say has kept you going?
I think and believe that God has been the one keeping me going even though things have not really worked the way I had planned. God has been awesome, especially for the gift of life. Again my restless spirit and the fear of failure have kept me going. My independent spirit has also kept me going too.
Almost a decade in Nollywood and still striving to hit stardom, do you feel fulfilled or sad?
Like I said earlier, I give God the glory for everything but mind you, I won't call myself a fulfilled actress now, but sincerely speaking, things did not really work out for me, the way I would have loved to, if I were there as a full fledge actress. No much regret, because I'm still in my 20's.
We would like to know more about you and your family background?
Like you already know, I'm Amaka Ononibaku, from Mgbidi, Imo State, the last in a family of six, three at par. As the last child I had my own fair share of my dad's strictness. I was born and raised in Lagos; I'm currently a final year student of the Creative Arts Department of the University of Lagos. It has not been easy juggling school and Nollywood.
We would also like to know more about your plans for your make up outfit?
Before the end of the year, I would love to be a make up artist that is famous and sought after, within and outside our shores. I would also love my acting career to flourish beyond our shores.
I want Stunners, which is the name of my make up outfit to be a huge success and have the names of the high and mighty as clients. I'm also looking forward to being a happily married woman soon, God's willingly.
So marriage is on your mind?
Why not, I have a man in my life and we are not joking or playing. We have been on for over two years now and he supports me in my career.
How about other men coming your way, how do you cope?
They come and I cope with them a lot. I don't know what attracts them to me. But personally, I love my eyes a lot, while my guy loves every part of me.
What qualities would you say stands Stunners out in the league of other make up outfits?
My style of make up stands me out, besides, I'm very passionate and my works look very natural and real.
What informed your love for make up?
Making people up has always been an integral part of me. In fact, I love looking good and any time I come out, people always complement me, that was why I decided to go into it, I did not go to any make up school to learn this, it's just a natural flair that is still flowing within me.
By the grace of God in the next couple of years, I hope to hit stardom with my make up job. I see my self making up presidents and governors wives very soon.
Between acting and make-up, which comes first?
For me, none comes first, but I'm now more comfortable with my new found passion for making people up and bringing out their hidden beauties.
I'm very affordable, but do not come cheap, because I import must of the materials I use, from abroad, mostly UK and US. I thank God for the modest success I have achieved since I started last year, this is just the beginning and I won't let my special clients down.