Buhari needs support of all Nigerians to fight corruption, says Okotie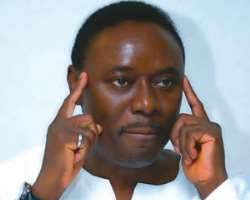 The Founder and General Overseer of the Household of God Church, Pastor Chris Okotie, on Monday said President Muhammadu Buhari needed the support of all Nigerians as he continued to clean up the corruption perpetrated by the Peoples Democratic Party (PDP).
Okotie, who contested for the presidency on three occasions, said Buhari was the epitome of transparency and discipline, adding that his attitude had rubbed off on the armed forces which had become more effective in the fight against insurgency.
He described the 16-year rule of the PDP as the government of the corrupt, by the corrupt and for the corrupt.
He said, 'More than at any time in our history, we need discipline in the armed forces. And, thank God we have an ex-general, who is an epitome of discipline and transparency, in power. I urge Nigerians to support his anti-corruption campaign which aims to rid this country of PDP's legacy of a government of the corrupt, by the corrupt, and for the corrupt.'
Meanwhile, Okotie's party, the Fresh Democratic Party, has denied accusing the All Progressives Congress of planning to rig the forthcoming Rivers State governorship election.
The party's Director of Media and Communications Strategy, Ladi Ayodeji, said in a statement that it had no hand in the allegation, adding that the allegation was the handiwork of the Inter-Party Advisory Council of Nigeria.
The statement read in part, 'The attention of our great party, FRESH, has been drawn to an advertorial by the Inter-Party Advisory Council of Nigeria published in a national daily on Wednesday, January 20, 2016.
'In the said publication, IPAC listed FRESH as one of its (Rivers State chapter) members accusing the APC and the Independent National Electoral Commission of conspiracy to rig the forthcoming rerun in Rivers State in favour of the APC candidate.
'In the advertorial, one Chief Collins J. Ndegwe purportedly represented FRESH at an IPAC meeting in Rivers State, where our party joined other parties to condemn the alleged plot by INEC/APC to rig the APC into power in the state.
'Obviously, the IPAC, Rivers chapter, is in sympathy with the PDP governorship candidate and incumbent Governor Nyesome Wike. FRESH has no problem with that. However, it is criminal for anyone or group to drag our party into this unholy alliance.
'We would like to make it abundantly clear that Chief Ndegwe is not our member, and has never been authorised to represent FRESH in IPAC, or at any other forum for that matter.' Agency report