Obiano's Agricultural Revolution: "Anambra Rice" Trends On Anambra Scorecard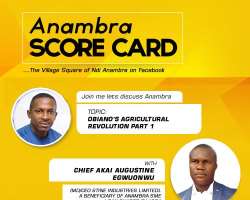 Within the last 2 years, Ndi Anambra have witnessed unprecedented revolution in the Agricultural Sector with over $600m agro investments spread across Rice Farms, Cassava and Tomato production, modern abattoir, poultry and meat processing as well as a heavy duty equipment assembling plant.
With these huge investors and the help of Anambra Small Business Agency (ASBA) established by Gov Willie Obiano to assist SMEs in the State, Anambra now enjoys "Anambra Rice" aiming to become a major exporter of agro products in the nearest future.
Hence, our quest to discuss "Obiano's Agricultural Revolution" with Chief Akai Egwuonwu, the MD/CEO of Stine Rice Industries Ltd and a beneficiary of the SME Loans shared by ASBA.
Join the discussion on Anambra Scorecard by 2pm on Wednesday, January 27, 2015.
This edition shall focus on the now popular Anambra Rice; it's production and uniqueness; government's support and job opportunities.
Click here to join Anambra Square ( www.fb.com/groups/AnambraSquare ).
Have you seen or eaten the Anambra Rice? What are your feelings, observations and suggestions?
Don't miss out… You have the right to know!