We did not arraign half-naked pro-Biafra agitators: Rivers Police Command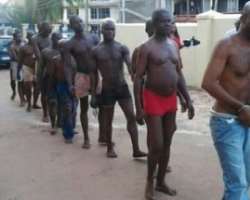 The picture of the  pro-Biafra agitators who were arraigned half-naked which Rivers police command refutes
---
The  Rivers State Police Command has refuted  an online publication which claimed that  the command arraigned 10 suspected Biafran agitators half naked, saying the photographs displayed online along with the news item did not emanate from the Rivers Command of the Nigeria Police..
The state Police Public Relations Officer, Mr. Ahmad Mohammad,  in a statement on Saturday described the publication as malicious and the handiwork of inept journalism.
Mohammad observed that the said online photograph indicated that the people in it were more than 10 as against the number stated in the news item.
While denying claim of the online publication in its entirety,  Mohammad stated further that  state command had never paraded suspects in such a inhuman manner as depicted by the online photograph.
The state Police Command had on Wednesday and Thursday arraigned 10 pro-Biafra supporters at the Magistrate's Court in Port Harcourt.
The statement reads, "The attention of Rivers State Police Command has been drawn to an online publication titled '10 pro-Biafra protesters arraigned in court half naked' published by an online blogger.
"It is instructive to state categorically that the pictures displayed along the news item did not emanate from the Command that is known for the respect for the dignity of suspects.
"A close look at the horrible pictures indicated the people therein are more than 10 as against the number stated in the news item.
"The Rivers State Police as responsible agency has never at any time paraded suspects in such a dehumanizing scene, let alone arraigned them before a court of law like that. The Command viewed such publication as malicious and inept journalism."
The police spokesman enjoined Nigerians to   disregard such online photograph and news item, insisting that the command had nothing to do with them.
ANKONZI PROMOTION on January 21 reported  ten pro-Biafran protesters arrested between January 16-18 were  in court by the Rivers State Police Command, with three different pictures showing half-naked men in chains.
The report, which identified the suspects in the picutre as Onu Ifeanyi, Prince Onwazor, Princewill Anyanywu, Sunday Egbim and Uzoma Onyegbu, Chigozie Moses, Chukwudi Enyidau, Anthony Ochuel, Enam David Okon and Friady Nwahiri, said they were  were arraigned at Magistrates' Courts 7 and 14 in Port Harcourt last Wednesday on two-count charge of criminal conspiracy and treasonable felony. 
Hearing on the cases was adjourned till Thursday, January 21, and 28 respectively while the presiding Magistrate ordered for the suspects to be remanded in prison custody.
The report had even quoted the Rivers  Police Public Relations Officer of Rivers Police Command, Ahmad Muhammad, as saying  the suspects were arrested while on their way to infiltrate Port Harcourt from neighbouring states with the intent to engage in a conduct likely to undermine public peace.