Insecurity: Wike Attempts To Compromise Security Agencies?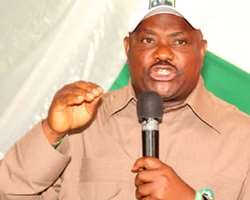 Information reaching VolunteerNews Reports indicates that the embattled Governor of Rivers State, Chief Nyesom Wike's plan at compromising security agencies has been resisted.
Our impeccable source revealed that Chief Wike had dispatched the duo of Hon. Emeka Woke and Chief Kenneth Kobani, his Chief of Staff and Secretary to the State Government (SSG) respectively in search of the Commanding Officer(CO) handling the on-going arms mop up in Rivers state with the aim of financially inducing them into abandoning the crackdown on criminals in the state.
On seeing the CO at Bori, Messrs Woke and Kobani brought out a bag full of money and attempted handing it over to the officer. The Officer, who was totally surprised, demanded reasons for such huge cash gift,to which Kobani responded thus: "Ah Officer, we know say una work dey very difficult and challenging, so my Governor asked us to bring you this small gift to support yourselves."
Proded further, he added: "Only say, my oga (Governor) for like meet and discuss with you because some of the people your boys dey chase around na innocent people. As a government, we for like partner with you so as to identify the real criminals and deal with them."
At this point, the officer who was visibly enraged, interrupted him and ordered them to leave his base immediately, warning to arrest even themselves (Woke and Kobani) if they see the wanted criminals around them.
Chief Wike has been severally accused of attempting to bribe officials performing their lawful duties. Recall that the same Chief Wike recently paid a suspicious visit to the Chief Justice of Nigeria.