DR CONGO ARMY 'KILLED CIVILIANS' IN MBANDAKA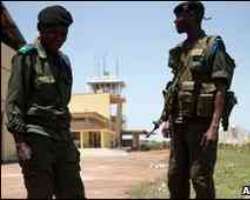 UN troops helped the army retake Mbandaka airport
The Democratic Republic of Congo army killed at least 11 civilians as it retook the airport in Mbandaka from rebels this month, a rights group says.
The Asadho campaign group say they have confirmed 11 killings but suspect another 31.
Nine of the dead had been in detention for three months but were then accused of being rebels and killed, it said.
The airport attack, which followed clashes over fishing rights, left two UN workers dead.
DR Congo's army has a terrible reputation for brutality and stealing from and raping the people it is supposed to protect.
Thousands of former rebel fighters have joined the army under various peace deals.
The dispute in Mbandaka is separate from the unrest involving numerous armed groups in eastern DR Congo, which has drawn the world's biggest peacekeeping operation to the country.
UN peacekeepers helped the army retake control of the airport in the north-western Equateur province on 5 April.
The Asadho group also accused UN peacekeepers of not helping a shipowner who was killed by the rebels, reports the AFP news agency.
Mbandaka is the capital of Equateur province, where at least 100 people were killed in clashes between the Lobala and Boba communities last year, displacing an estimated 200,000 people.
The rebels were thought to be from the Enyele community – a Lobala sub-tribe.