Current Situation In Nigeria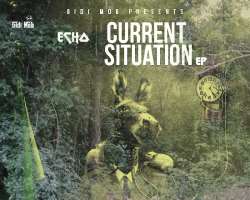 Reviving, revealing, refueling, experimental, self-explanatory, are the least attributes attached to this echo-resonant extended play (EP), compiled by the hiphop movement - Gidimob.
The mastermind behind every production in this EP, Echo, is a hiphop production expert and Knight House's production generator. This music compilation clears the air on the state of the nation by facing the listeners squarely with the 'Current Situation' in Nigeria.
The 'Current Situation' EP starts its journey as Peter Clarke visits the nation with 'Church' and publicly addresses the masses on the unrealistic outcomes of the activities performed by the so called "Men of God" in 'Church'.
He notes a reference; 25 manufacturing factories between Oregun and Ogba in Lagos which were replaced with 15 churches that enroll students into their schools with tuition fees higher than that of public schools. Peter Clarke only wants everyone to help each other, pray and stop seeking extra ordinary powers after being frustrated and made hopeless by their false counselors. This track assumes the best lyrics in a roll.
'D' Truce' by D' Truce outlines the faults displayed by both the government officials and citizens of Nigeria and their consequences on the 'Current Situation' in Nigeria. Nobody is ready to lose in this present time, nobody. However, it expresses how citizens cope with the unreliable services and facilities provided by the government like scarcity of fuel produced and sold, unsteady supply of power produced and sold, inflation in price of daily needs including food stuffs that Nigeria can never lack because of its natural fertile land, hence, the modified name 'Greenland'.
'Greenland' (Nigeria) couldn't expose less how her fertile land has lost her resources to the hands of the so called 'Oga at the top', leaving the viable land with littered waste. 'Greenland' further gives insight on her current bad omens, high unemployment rate, high level of complex terror and corruption practiced by government officials, high death rate, economic recession and meltdown faced by her, Nigeria.
For me, Baba went to United States, came back and suddenly dollar went up, higher than normal, ever. He is indeed a great guy when it comes to handling money. 'Greenland' which features Lauretta, happens to be the most communicable song in the EP that demands immediate visuals.
'Real Shit' reveals the mindset of a real human, living and experiencing this 'Current Situation' in Nigeria. MVP references his personal experience where the Nigeria Police breached human rights and illegally broke into his family's home unwarranted, assaulted and arrested them with a One Hundred and Fifty Thousand Naira bail tagged to their failing charges. MVP leaves the track with inspirational lines quoted as "Stay positive...Stay focused like an eagle in the sky, then you gon fly so high because you are the son of the Most High". 'Real Shit' stands unopposed as the best rap performance in the EP.
Leader of the new school Afro band, THE FACTORY PACK and elder brother to rapper MVP, High M, makes a come back to the hiphop scene after a break with this lyrically poetic piece - 'Days of Our Lives'. This track opens up the wounds suffered by the typical upcoming act and sheds light on betrayal, travails and depth caused by the 'Current Situation' in Nigeria. I personally love this deep flows like "if u say I wouldn't make it G, u just get to me like the divers" haha!
The hilarious skit staged an upcoming artiste and a music personnel of a supposed unknown music record label or so, in a repelling interaction where homosexuality was the topic.
As it never looked like the energy level flowing in this EP has stopped increasing at anytime and having in mind that all featured artists in this 'Current Situation' EP shared one view, Dabu in 'Charged Up' showcases their universal tempo, with alarming minds made up consciously, echoing the 'Current Situation' in Nigeria. Dabu only wishes the information conveyed in this 'Current Situation' EP to never get gazed up.
'Epic' fiercely expresses the conditional 'Current Situation' faced by upcoming artistes and striving youths in Nigeria. Aside the harsh decisions made by the Nigerian leaders upon their patiently dying citizens, citizens tend to show harsh behaviours towards fellow citizens too - as seen in the case of the plantain chips seller. 'Epic' flawlessly assumes to be the best vocal performance in the EP with credits to Laycon.
'Redemption' throws more light on the conditional 'Current Situation' faced by citizens of Nigeria, yet couldn't agree less on the basis of the creation of Nigeria and the wrath faced by her citizens since independence. The ever present lyrical rapper in the Gidimob hiphop movement, Lex gathers up a lot of facts on Nigeria since birth till date in a lyrical way to create this masterpiece.
Nawab analyses how citizens who are not in anyway affiliated to power in Nigeria ambitiously go through sticky roads in search of their daily needs through music in order to be 'Self Made'. The first part of this outstanding duo-phase hiphop track discloses the experience of a hustler experiencing the 'Current Situation' in Nigeria while the other checks reality with activites citizens partake in like joining forces together (JFK), to overcome the 'Current Situation' in Nigeria and be 'Self Made'.
In my own words, disregarding the hiphop invasion the Nigerian Music Industry currently face, with new introductions like Chinko Ekun, Ycee and Oladips, I quote "every single jam in this EP is a hit, back to back, from 'Church' to 'Real Shit', down to 'Self Made'; with no further doubt, hiphop ti take over".
By @disturbingafrik©
Copyright©. All Rights Reserved.
DOWNLOAD CURRENT SITUATION EP (untagged)
http://www.datafilehost.com/d/0be7aca8
CURRENTSITUATIONEP
Disclaimer:

"The views/contents expressed in this article are the sole responsibility of the author(s) and do not necessarily reflect those of The Nigerian Voice. The Nigerian Voice will not be responsible or liable for any inaccurate or incorrect statements contained in this article."