The Nigerian Dream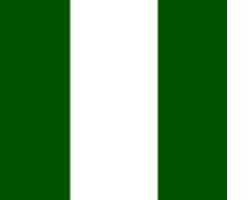 Richard V. Reeves writing for 'The Brookings Essay' talks about saving Horatio Alger, Equality, Opportunity, and the American Dream. The first few paragraphs got me thinking...
On a warm spring evening in Washington, D.C., a fleet of limousines and town cars delivered hundreds of guests, bedecked in black tie and long gowns, to a gala celebration of the American Dream: the annual awards night for the Horatio Alger Association of Distinguished Americans.
Twelve new members (11 men, one woman) were honored for having risen from childhood poverty to positions as captains of commerce or celebrated public servants. Colin Powell, a 1991 award recipient, was among those in the audience. The new members' speeches were brief, striking a balance between pride and humility, and all hewing to the rags-to-riches theme: "Who would have thought that I, from a farm in Minnesota/small town in Kansas/Little Rock, raised in an orphanage/with no indoor plumbing/working multiple jobs at 16, would end up running a $6 billion firm/a U.S. ambassador/employing 10,000 people. Only in America!"
The climax of the evening came with the arrival on stage of more than 100 students from poor and troubled backgrounds to whom the Society had awarded college scholarships, an annual rite that over the years has distributed more than $100 million to deserving young people. Tom Selleck read to the 2014 scholars an inspirational passage of poetry from Carol Sapin Gold ("The person who risks nothing does nothing, has nothing and is nothing…") and the Tenors sang "Forever Young" as a giant American flag was slowly unfurled from the ceiling. The ceremony had the feel of an act of worship and thanksgiving before the altar of the society's namesake. It was a genuinely moving experience, even for me—and I'm a Brit.
Vivid stories of those who overcome the obstacles of poverty to achieve success are all the more impressive because they are so much the exceptions to the rule. Contrary to the Horatio Alger myth, social mobility rates in the United States are lower than in most of Europe. There are forces at work in America now—forces related not just to income and wealth but also to family structure and education—that put the country at risk of creating an ossified, self-perpetuating class structure, with disastrous implications for opportunity and, by extension, for the very idea of America.
Many countries support the idea of meritocracy, but only in America is equality of opportunity a virtual national religion, reconciling individual liberty—the freedom to get ahead and "make something of yourself"—with societal equality. It is a philosophy of egalitarian individualism. The measure of American equality is not the income gap between the poor and the rich, but the chance to trade places.
In his second inaugural address in 2013, Barack Obama declared: "We are true to our creed when a little girl born into the bleakest poverty knows that she has the same chance to succeed as anybody else, because she is an American; she is free, and she is equal, not just in the eyes of God but also in our own."
President Obama was not saying that every little girl does have that chance, but that she should.
I read the above paragraphs with so much on my mind, I have got some two wonderful boys, and like many of my readers, we have kids, and the best we have done is pat them on the back and whisper to them how they are the 'leaders of tomorrow', indeed leaders of tomorrow, but with which dream?
Many of us are struggling to see that these kids get any form of foreign education. The vogue in most schools now is either American or British Curriculum, some schools even go as far as Canadian curriculum. Our lads are going as near as Benin Republic, while others as far as Cyprus, and Hungary.
Is the Dasuki-gate the Nigerian dream, and the cry of witch hunting by witches the dream we have of our nation. Lately we have cried more from the lack of dollars than the value of our Naira.
We are more concerned about ethnic issues as we battle Biafra, and put more energy in discussing the "Islamization, Secularism and Christianity" of not just the Nigerian state, but it's political structure, than we have bothered on what the Nigerian dream is, or should be.
So much has been said of the Nigerian myth, but what do we stand for, as a people, do we provide equal opportunity or are we still a long way of remedying the malaise of federal character and quota system. In the last decade many have got jobs not because they were capable, or had potentials, but because they were politically correct, or geographically right.
We have lamented about what the Nigerian project is, we have cried about our problems of structure and systems, but truth is, apart from the little things like football, we are yet to zero in on what binds us a people. The moral claim that each individual has the right to succeed is implicit in the "American creed" the Declaration of Independence, when it proclaims, "All men are created equal." Is there any moral claim in the Nigerian constitution which still battles to give definition to what an 'indigene' is, or the National Anthem, that many cannot even recite any longer.
Our youth dream of the big life, big houses, big cars, the easy life, bling-bling; what they see on the TV, and around them. They are not ready to work, and really you do not blame them, as they are living witnesses to the mess of our political class…We bicker over everything and nothing, and the question remains, when are we ready to define Nigeria, when are we ready to wake to our collective dream of equity, justice and fairness—Only time will tell.
Disclaimer:

"The views/contents expressed in this article are the sole responsibility of the author(s) and do not necessarily reflect those of The Nigerian Voice. The Nigerian Voice will not be responsible or liable for any inaccurate or incorrect statements contained in this article."
Articles by Prince Charles Dickson