Ibori: Growing calls for independent investigation of bribery allegation against Met Poilce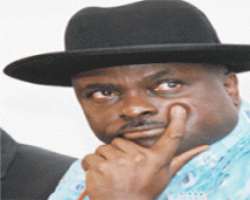 The pendulum of justice is gradually tilting in favour of former Governor of Delta State, Chief James Ibori, and his associate, Bhadresh Gohil, as calls for an independent investigation is mounting on a daily basis. The British Broadcasting Corporation (BBC) on Sunday, January 24 2016 reported that the latest call for a fresh investigation is coming from Simon Natas, a defence solicitor, who has thrown his weight behind those calling for a fresh and independent investigation on the bribery and corruption allegation levelled against the Metropolitan (Met) Police by Gohil.
Similarly, the influential Sunday Times of London, writing under the headline "Police bribery hushed up billionaire trial" said, "THE Crown Prosecution Service (CPS) is facing serious questions over an alleged cover-up that could jeopardise the high-profile conviction of a billionaire Nigerian politician.
"The crisis follows the dramatic collapse of a case involving Bhadresh Gohil, a lawyer who represented James Ibori, a former governor of Nigeria's oil-rich Delta State. Gohil was cleared at Southwark crown court last week after the CPS withdrew a charge of perverting the course of justice.
"Gohil had been accused of leaking fabricated documents to media organisations and MPs on the home affairs select committee. The documents claimed a police officer involved in the Ibori inquiry had received corrupt payments from RISC Management, a private detective agency that worked for Ibori.
"The decision to prosecute Gohil backfired when CPS lawyers were accused of withholding key documents, which could have proved police corruption."
Also, the London Guardian in its report on the case titled "CPS accused of suppressing police corruption evidence"
and published on Saturday January 23 said "criminal trial prosecutors have been accused of suppressing evidence of police corruption in what has been called "misconduct of a particularly serious nature". Lawyers are alleged to have covered up evidence that police received corrupt payments from a firm of private investigators in return for confidential information.
"The accusation has been made in the trial of two men charged with fabricating claims of corruption involving Metropolitan police officers. The trial collapsed last Thursday at Southwark crown court in London after senior lawyers at the Crown Prosecution Service (CPS) decided to abandon the case. The CPS said new information had come to light, but did not elaborate. It did not comment on the allegation of serious misconduct."
It will be recalled that during a long-running trial in London, which has now been abandoned, a court was told there was "compelling evidence" officers had received bribes.
The claims were made by ex-solicitor Bhadresh Gohil's legal team but Scotland Yard reacted swiftly saying that its investigation into the claims found no misconduct.
During the trial, Mr Gohil had been accused of perverting the course of justice by faking documents to make it look as though, Scotland Yard detectives were taking bribes.
But his defence lawyers said that, far from this, and even though Mr Gohil had separately pleaded guilty to money-laundering, he was trying to expose corruption within the Metropolitan Police.
Speaking to the BBC after the trial was abandoned  on Thursday January 21 2016, Mr Gohil said he felt vindicated.
"I was a whistle-blower and instead of investigating what I had uncovered and put forward, I was persecuted," he said.
'Serious questions'
The case goes back more than four years, when Mr Gohil anonymously sent documents to public officials and journalists. Among the papers were what purported to be invoices detailing payments to confidential sources – bribes for Metropolitan Police officers, it was claimed.
In court, defence lawyers alleged there was "clear and compelling evidence" of police accepting bribes in return for "unlawfully providing sensitive information" to private detectives.
It was also alleged that Scotland Yard's own investigation into the affair was "deliberately designed to find no evidence of corruption" and that the prosecution service "deliberately withheld evidence" which undermined their case, "misleading the Court of Appeal" in the process. These allegations were disputed.
Reacting on the the prosecutor's dramatic decision to drop the trial of Gohil, Natas said,"we consider that there are very serious questions for both the director of public prosecutions and the chief commissioner of the Metropolitan Police to answer about all aspects of this affair."
Scotland Yard has said that the allegations of corruption were investigated but no misconduct was identified. The CPS has confirmed only that the case against Mr Gohil has been dropped.
Sources: BBC, GUARDIAN (uk) and Sunday Times (London)