Omidiji Jr: Meet the 12-year-old prodigy that may be next big thing in football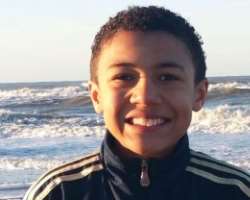 Lateef Omidiji Jr comes highly recommended. The 12-year-old US-born striker currently plays for the Under-14 team of Netherlands second division side Dordrecht FC.
However, he already has a place reserved for him in the Nigeria U15 side based on first hand scouting by its coach Danladi Nasidi.
Coach Nasidi traveled to the US to watch him play in 2014 and came out of the experience knowing he had something on his hands.
"He has speed, focus, the technique is so good, the tactical approach is fine and he has the physical ability. These things combine to make a good footballer," Nasidi told Goal.
"He's a small boy and if he comes to play for Nigeria, it will be good for Nigeria," he declared.
Perhaps not every 12-year-old gets to be spoken so highly of at his age. Lateef Jr. is currently leading scoring at his youth side despite being two years younger than his teammates and opponents.
He told Goal that he would like to represent Nigeria someday like his heroes Rasheed Yekini, Daniel Amokachi, Austin 'Jay Jay' Okocha and Mutiu Adepoju, players he grew up watching on home video tapes with his father and grandfather.
"Although I have received interest from USA Football," Lateef Jr. told Goal, "my heart lies with my fatherland and I'm hopeful of a call up from the coach Nasidi-led U13s/U15s this year."
Coach Nasidi is keenly following the development of the prodigy, something he must stay alerted to as there seems to be a lot of eyes.
"Many countries are interested in him, but since I'm monitoring his activities, I want to make sure we get hold of him before any other country," Nasidi said.
His father also wants him to play for Nigeria despite the interest from the United States and its alluring potentials.
"I love my nation and I put that love of Nigeria in my kids very early. I tell them you are not just American, you're Nigerian-American," Mr Omidiji told Goal.
Sophia, Lateef Jr.'s older sister was called up to the Nigeria U20 Women's team in 2015.
"He has received an invite from the Nigerian U13/U15 coach who watched him play and was impressed with his eye for goal, speed and technique. He is also quite strong which is why he has always played 1-2 years up in age groups to get challenged," he said.
For now, Lateef Jr. continues to develop his skills in the Dutch system where he hopes to keep getting the kind of challenge that would make him a top player in future.
"Since coming to the Netherlands, they have turned me into a more versatile player so coming from the United States as a number 9, they've taught me how to play 7, 8, 9 and 10 so I can play four positions," Lateef Jr. said.
"Right wing, left wing, center mid and striker, they call me speedy here in Holland because of my speed but what I'm most proud about is my technical ability.
"I am proud to be able to combine my natural Nigerian style with what I learned in America and what I'm now learning in the Netherlands."