Fulani herdsmen kill many in Adamawa communities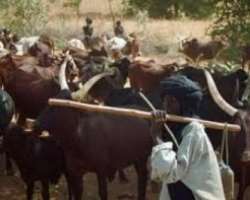 Fulani herdsmen in the early hours of Sunday unleashed mayhem  on three communities in Jire Local Government Area of Adamawa State, leaving many killed and many others..
The deadly Fulani herdsmen struck Ko, Gereng and Ndikajam communities at about 3.30 am shooting sporadically.
PUNCH report cites Executive Director of Stefanos Foundation, Mr. Mark Lipdo, quoting some survivors, said that currently many of them have deserted their villages while the herdsmen held sway.
According to Lipdo, "Information says early morning today, Fulani terrorists unleashed violence on three communities in Jire local government area of Adamawa State. Survivors said they  burnt down houses in Ko, Gereng and Ndikajam and were shooting sporadically.  It is still difficult to establish the casualties  as people are currently running for their lives."