TURKEY OFFERS TO MEDIATE ON IRAN'S NUCLEAR PROGRAMME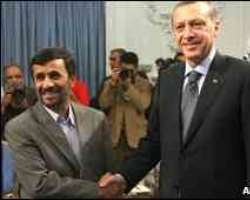 Turkey has previously offered to serve as a mediator in the Middle East
Turkey has offered to mediate between Iran and the West in the dispute over Iran's nuclear programme.
The Turkish foreign minister, Ahmet Davutoglu, announced the offer after talks with his Iranian counterpart Manouchehr Mottaki.
Western powers say Iran is trying to develop nuclear weapons, and the US and its European allies have been pushing for new sanctions against Tehran.
Iran says its nuclear programme is for peaceful purposes.
Last year, Turkey offered to store Iran's uranium as part of a deal for Iran to send low-enriched uranium abroad to be turned into fuel rods.
The plan faltered, but on Tuesday Mr Davutoglu said Turkey could help revive a diplomatic solution.
"If such a will exists from our Iranian friends and if they think it prudent that we play a role, we will do so," he said.
"Turkey, as a third country, is ready to play an intermediary role in the uranium swap and Iran's other nuclear issues."
Difficult choice?
Mr Mottaki said on Monday that Iran would make contact with all 15 UN Security Council members on the uranium swap plan, after Washington expressed interest in an updated version of the deal.
BBC diplomatic correspondent Jonathan Marcus says that Turkey's position is clear: it backs Tehran's right to develop civil nuclear power and it opposes all nuclear weapons programmes in the region.
But he adds that as the pressure for new sanctions against Tehran increases, Turkey – currently a member of the UN Security Council – may find itself with a difficult choice – either reluctantly to back the US and the Europeans or to side with Iran.
Iran is Turkey's second largest supplier of natural gas, and any new round of sanctions could have a knock-on effect on the Turkish economy.