Govt plans $1bn Eurobond sale to plug budget gap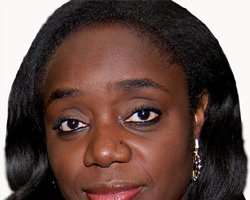 Nigeria plans to sell as much as $1 billion of Eurobonds to help fund a record budget deficit this year, Finance Minister Kemi Adeosun said yesterday.
Officials from Africa's biggest oil producer plan to hold non-deal roadshows to meet investors and explain the government's policies to revive economic growth, Adeosun said in an interview at the World Economic Forum in Davos, Switzerland.
'We're looking at a maximum of $1 billion,' she said. 'We need to go out and sell our story, talk to people, talk to the market - and get the best value.'
Prices of oil, on which Nigeria depends for almost all exports and two-thirds of government revenue, have slumped 15 per cent this year to a 12-year low of around $30 per barrel. The West African nation's economy probably grew 3.2 per cent last year, the slowest pace since 1999, according to a Bloomberg survey of economists.
The government is optimistic that crude prices will recover in the second half of 2016 and it has no plans to change the budgeted benchmark of $38 a barrel, she said.
President Muhammadu Buhari has proposed boosting this year's budget by about 20 per cent to 6.1 trillion naira ($30.8 billion), while the deficit is set to widen to 3 trillion naira, or 3 per cent of gross domestic product.
Nigeria has issued dollar bonds twice, most recently in 2013. Yields on its Eurobonds due July 2023 fell 41 basis points to 8.65 per cent at 4:25 p.m. in London. They have risen from under 5 per cent since May 2015 as the economy has weakened and investors have pulled out of emerging markets in anticipation of rising interest rates in the U.S., which makes assets there more attractive.
Investors have criticized Nigeria's policy makers for not letting the local currency weaken amid low oil prices. Central Bank Governor Godwin Emefiele, with Buhari's backing, has held the naira at 197-199 per dollar since March last year via foreign-exchange trading restrictions and curbs on imports. That's hurt businesses that need dollars to pay for imported inputs and exacerbated the economy's slowdown, according to analysts.