Dollar scarcity hits Nigerian banks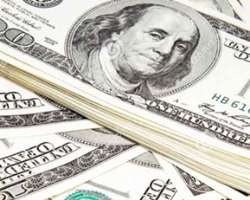 Bank customers are now unable to withdraw dollars from their domiciliary accounts amid worsened scarcity of the currency in the financial services sector.
With the situation, business persons and individuals are complaining that they cannot get dollars from their banks to do transactions.
Meanwhile, the naira has continued to depreciate at the parallel market amid mixed reactions to the recent foreign exchange policy of the Central Bank of Nigeria to stop selling forex to Bureau de Change operators.
The CBN had only recently lifted its ban on the deposit and withdrawal of foreign currency by bank customers.
Currently, the naira exchanges at about N300 at the parallel market and trades at about N200 at the official interbank window.
Investigation, however, showed that the scarcity of dollars has worsened in banks which are therefore under pressure to meet customers' foreign exchange demand.
For instance, a Lagos based medical doctor, Clementina Silas, said she had been unable to withdraw the amount she needed from her domiciliary account for over 10 days.
Silas said she was told by officials of her bank to try several of their branches to check if they could come up with the $1,300 she wanted to withdraw from her account.
She said after requesting for the said amount at four branches of the bank, she could only get an aggregate of $400.
She said, 'I have wanted to withdraw $1,300 for the past 10 days but I have not been able to do so.
'First, I went to a branch of my bank at Idimu, Lagos, but I was told that I could only get $100. Then I went to other branches at Akowonjo and Ikeja but couldn't get any there. I was told that there was scarcity of dollars.
'I got lucky at a branch at Adeniyi Jones Avenue, where I was able to get $200. The lady said I should come back the next day and I might be lucky to get more dollars. When I got back there, I could only get $100 but one of the officials at the branch said she had to keep it for me because she had promised me that she would try to get more for me.
'It is very annoying because it is my money we are talking about. I don't understand why it is difficult for me to get my money when I need it.'
A businesswoman in Abeokuta, Ogun State, Alhaja Aminat Musa, also lamented the situation, said. 'The banks are not releasing dollars to us and you cannot get it anywhere.'
Musa said she even had to jettison her plan to travel recently to buy some textile materials from Ghana and bring to Nigeria.
She said, 'I was planning to travel recently to Ghana, but I couldn't go. What I normally do is to collect dollars from my account here and exchange it with the local currency in Ghana, Benin Republic or any other country I am buying goods from.
'But I cannot get dollars anywhere and so I could not travel out to buy goods. So I will wait till the issue is resolved and dollar rate comes down before I buy more goods. Even if I buy anything now, it will be too expensive and I may not make enough profit from it.'
A bank customer in Abuja, Pastor Olubunmi Ogundipe, who described himself as a missionary, said his bank had also failed to pay him money from his domiciliary account.
Ogundipe, who said the money raised internationally for his church is paid into his domiciliary account, lamented his inability to access the funds.
He said, 'It is really embarrassing and shameful because it is affecting God's work. 'Usually, I withdraw cash from the account to change to naira but I have been unable to do that for some time now. Every time I go to my bank, all I hear from the officials is that they are trying to source for funds but up till this moment, there has been no money.
'It is frustrating and I don't know what else to do. I hope that the Federal Government knows what it is doing and where it is going with its policies because some of us are not finding it funny at all.'
A bank executive, who spoke on condition of anonymity but confirmed the situation, said he had been sourcing for $1,000 for a customer since the CBN lifted the ban on forex transfer without success. The official said not many customers have been coming to withdraw dollars and that they have been unable to pay them as no deposits had been recorded since the ban was lifted.
'Since the ban was lifted, people have not been coming to deposit dollars so there is nothing to give out to those who want to make withdrawals,' the source said.
'I asked a customer who wanted to withdraw $1,000 to wait for us to source for funds but I have not been able to get the money since.
'I have informed our Cash Management Unit but there has been no feedback yet. It is a very serious issue but the depressing part is that we don't know how long this will continue.'
A source in one of the commercial banks, who spoke to one of our correspondents on condition of anonymity, said since the ban was first imposed on deposits by the CBN, most banks had exhausted their reserve by using what they had to pay customers who came to request for them at that time.
The source said, 'To make it worse, CBN also stopped issuing dollars to banks at that time, so there was dollar scarcity everywhere. Even now that the ban has been lifted, there is still no reserve because only a few people are coming to deposit their dollars and we can't even approach the CBN because the apex bank would query the reason for asking for dollars. So, we have not been able to meet the demand for dollars, even when the ban has been lifted.
'In our branch, we just received the directive to start collecting dollar deposits from customers, and if anyone wants to withdraw dollars, we'll source for it even if it is to contact other branches for assistance.'
Spokesperson for the CBN, Ibrahim Muazu, who admitted that dollar was in short supply, said banks would need to be aggressive to attract its deposits.
He said, 'Those who deposited dollars in their banks have the right to get their money without any excuse. However, there are some realities, so it depends on the branch where they are making the demand because if the branch does not have the dollar cash, they will have to get it from other locations.
'But if you are talking of somebody with Naira cash that wants to buy the dollar, it is a different thing and it depends on what the bank will be able to source for him. It is not mandatory that when you want it, you should have it for these two simple reasons and I have given you the situations for each category.
'The hope was that when we allowed banks to take dollar deposits, it would depend on those who are able to get the deposits from individuals, which would not be the same with every bank. An aggressive bank may have more than enough to satisfy its customers than a weaker bank. So is the bank strong in mobilising customers?" Punch