WORKINGTON'S NEW FLOOD BRIDGE OPENS TO TRAFFIC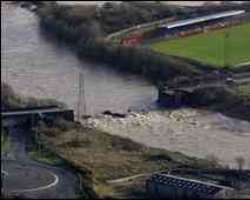 Workington's Northside Bridge was destroyed in the November floods
Motorists who faced an 18-mile detour after a Cumbrian town was split in two by flood waters can now use a £4.6m temporary structure.
The Northside bridge was destroyed in the floods which caused severe damage in Workington last November.
Pc Bill Barker, 44, died when the bridge, which spans the River Derwent, collapsed.
Later a tree planted nearby in memory of PC Barker, was being blessed by the rector of Workington, Canon Bryan Rowe.
The two-lane temporary crossing, known as a Jansen Bridge, weighs 350 tonnes and was opened to traffic on Wednesday.
Cumbria County Council's chief executive Jill Stannard said: "This is a really proud day for the town. This really is Working reunited.
"Behind the scenes we have been working for several months now on the permanent replacements for both this and the Calva and other bridges damaged in the floods."
Cumbria County Council said the replacement bridge would remain in place until the town again had two permanent crossings over the river.
A temporary footbridge, built by the Army and named the Barker crossing, was built to help residents but motorists have been forced to use Papcastle Bridge at Cockermouth for the past five months.
Later, a ceremony was due to take place at the foot of a flowering mountain ash tree which has been planted in memory of PC Barker.
Staff at Workington's Tesco store donated money to pay for the memorial tree and plaque, which bears the inscription "In loving memory of PC Bill Barker, who gave his life in the line of duty November 2009."