Rivers PDP Chairman, Bro Felix Obuah Invites Amaechi, Dakuku For Facility Tour Of New Rivers Under Governor Wike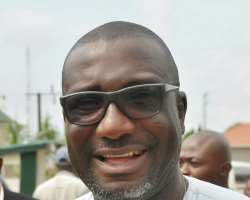 Excited by the magic wand of the Rivers State governor, Chief Barr Nyesom Wike that is impressively returning the State to its past Garden City status, the State Chairman of the Peoples Democratic Party, PDP, Bro Felix Obuah wants the immediate past State governor, Chibuike Rotimi Amaechi and his surrogate, the defeated All Progressives Congress, APC governorship candidate in the April 26, 2015 election, Dakuku Peterside to make out time for a facility tour of the new Rivers State under Governor Wike.
The State PDP chairman through a statement signed by his Special Adviser on Media and Publicity, Jerry Needam said the facility tour will not only teach the failed duo of Amaechi and Peterside how to make judicious use of public funds for public interest which they could not do in their capacity as both State Chief Executive and Commissioner for Works for eight years respectively but will also enable them re-master the rehabilitated roads and streets and construction of new ones in the Port Harcourt metropolis and its environs, so as not to miss their way any time they are in town.
Prince Obuah said this is the crux of the matter and the core reason for aspiring to leadership position and not necessarily hijacking power for sheer bravado that characterized their eight year long administration that left nothing but a legacy of misery and abandoned projects behind.
Ironically, the State PDP boss regretted, rather than admire and give kudos to this man of history, Chief Barr Nyesom Wike is being vilified for not towing their outdated ignominious path of self-enrichment at the expense of infrastructural development of the State and the general welfare of Rivers people.
"But seeing they say is believing, it's no longer a matter of unnecessary exaggerations, hoodwinking the people into a world of make-believe that were their stock in trade while their administration lasted. Ours is democracy in action and food for thought for doubting Thomases.
The magic is nothing but applying accountability, transparency and commitment to duty in the management of State resources.
The rehabilitated streets and roads and construction of new ones across the State are only an iceberg vis-a-via the lofty ideals of Governor Wike to transform the State into a haven for investors, and a promised land for all peace loving progressives irrespective tribe, ethnicity, nationality and, or religion", Prince Obuah assured.
Signed:
Jerry Needam, JP
Special Adviser on Media and Publicity
To the Rivers PDP Chairman, Bro Felix Obuah
Wednesday, January 20, 2015