Buhari's Voodoo Theories And Resurgence Of Biafra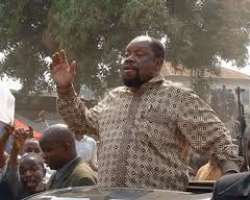 There is a legendary wise saying that if you do not know where the rain began to beat your body, you will hardly know where you will start to dry your body; put differently, problem identified is problem solved.
I have always stated in my public affairs commentaries and private discussions just like DrChukwuemekaEzeife had severally thundered in the air that President Muhammad Buhari is the major cause of the current resurgence of Biafra and if at all the Biafran threat of secession will be curtailed, PMB will be the major solution but certainly not through military might to crush the agitators as it is presently done. Agitation for Biafra is not a security problem which requires military solution. It is a socio – cultural and politicalresponse to wickedness, injustice, disequilibrium and lopsidedness against the South-East.
Abnitio, agitation for Biafra has been peaceful and non-violent. The agitators do not carry arms even in the face of violent provocation and do not endanger the lives and properties of the citizens and the state. Military approach is therefore not the best in the current circumstance. Was it not the extra-judicial killing of Mohammed Yusuf that made Boko Haram more daring, armed and daredevil?
The extra-judicial killing of Muamar Gaddafi of Libya led to illegal possession and proliferation of arms and ammunitions beyond Libya. The continuous killing of innocent and armless Biafrans by the military may likely internationalize the struggle for external military help. The aftermath of the military attack has led to the establishment of ''Biafran Shadow Government'' which is higher and more sophisticated intellectual and political weapon.
The mind of many in the South-east is already made up for Biafra. No amount of intimidation and military harassment can stop their psychological and emotional preparedness. If PMB is sincerely interested in sustaining South-east as part of Nigeria, he must apply intelligence gathering, diplomacy, dialogue, sensitization and awareness campaigns, enthronement of equity, fairness and Lord Hewart type of justice which is not deceptive and should not only be done but should be convincingly seen to have been done. Buhari must respect the right and freedom of the region to choose who will lead them and which country they want to belong; otherwise he is wasting his time with millions of troops to be dispatched to South-east.
The obvious fact in public domain is that the renewed Biafran movement was given birth about 16 years ago but was limited in its sphere of influence inSouth-east and South-south until PMB emerged as the President on may 29th, 2015. The idea and movement consequently became more vocal, attractive, prominent, vociferous and daring for outright Sovereign State of Biafra in the entire South-east; part of South-south & middle belt with influence in South-west and FCT Abuja.
PMB propounded the Vindictive and Exclusion theory when he told a bewildered and shocked Nigerian audience during his first official trip to United States of America that he would allocate political positions according to the number of votes he got from each geo-political region. This theory was a reinforcement of Zero sum game affair where a winner wins all and a looser looses all which Political Scientists have always berated. Buhari is not used to frivolous talks. He says what he means and mean what he says.
He did his first, second and third sets of appointments including the Service Chiefs and Kitchen Cabinet and integrated the five other zones and totally excluded the South-east. A strong message was consequently sent to the South-east that PMB was punishing the region for not voting for him. The Ibos were not ready for such punishment and humiliation. Hitherto, there was a bottled up anger and accumulated grief in the South-east against the Nigerian State.After the Nigerian-Biafran internecine conflict which ended in 1970, it was as if other parts of the country conspired never to allow Ibo man become the President to avoid the repeat of secession idea and bid even though Ibo leaders have not helped themselves either.
The unwarranted killing and destruction of the properties of innocent Ibo people particularly in the North long after the war has ended and other forms of discrimination at the national level has always made them to have sense of injustice and lack sense of belonging to Nigerian State. It was OlusegunObasanjo's civilian regime and to a larger extent Goodluck Jonathan's administration which integrated many of the Ibos at the centre of power. There were widespread fears in the region prior to PMB's election that he would be anti-Ibo if voted into power. When PMB started the exclusion practices, their fears were confirmed and coupled with the accumulated grief, the fire of sovereign state of Biafra was quickly ignited.
Similarly, PMB propounded the underestimation and under-rating theory when he did not recognize that the Biafran movementswere waiting in the wing to strike for a full-blown Biafran Republic. It was Hans Morgenthau who posited in his book ''Power Among Nations'' that you do not under-rate or under-estimate the capabilities and capacities of your political opponent.
Yes, the Biafran secessionist bid was militarily crushed but the spirit and the idea was not crushed and these were the facts PMB ignored. It is a Statement of fact that Biafra lives in the spirit of an average Ibo man. First, it started with PMB's lopsided appointments that totally excluded the South-east which received the fire and wrath of the intellectual community, columnists, editors, writers, Internet warriorsetc particularly in the south-east and that worsened their perception of PMB. There was a news release in ''Radio Biafra'' which spread like wild fire that Buhari expressed derogatory and ethnocentric anti-Ibo sentiments in an interview with BBC Hausa service which was denied by the Presidency.
The South-East started feeling humiliated, insulted, inferior, ridiculed and embarrassed with PMB's exclusion. The next thing that occurred was a resort for the agitation of Biafra to boost the ego, self-image and protect themselves as a strong Nation that constitutes the commercial backbone of Nigeria where they are being humiliated. While these groanings were at their early stage, PMB maintained a cold silence and it took him over two months to comment on it and when he did, the situation was worsened. He only recognized Boko Haram and Niger Delta militancy in his priority of security threats and ignored Biafra.
The next theory PMB propounded that added salt to the injury of agitationfor Biafran Republic was the non-negotiability of the unity of Nigeria. PMB had used the occasion of the investiture of the Obi of Onitsha, DrNnaemeka Alfred Ugochukwu Achebe as Chancellor of ABU ZARIA to declare thus: ''I therefore sound a note of warning that the corporate existence of Nigeria is not negotiable''.
This angered the intellectuals who quickly pointed out to him the negotiability of the unity of countries in modern times. They referred to the referendum of 1961 which ceded Northern Cameroon to Nigeria and Southern Cameroon to Cameroon; the referendum in January 2011 which led to the secession of Southern Sudan; the referendum in Scotland on 18th September, 2014 which rejected the Independent Country of Scotland; the Partition of Ireland; the breakup of Yugoslavia between 1990-1992; the creation of Peoples Republic of Bangladesh from Pakistan and the Dissolution of former Soviet Union in 1991. The intellectual wing of Biafran movement used these references to knock out PMB's non-negotiability theory and to agitate for referendum for Sovereign State of Biafra from the United Nations, which is a higher step in the struggle.
The Solidarity Theory to Palestine liberation struggle demonstrated by PMB added force to agitation for Biafran Republic. When Buhari addressed World Leaders in New York on Monday September 28th, he urged them to assist Palestinian state in getting freedom from the state of Israel.
Back home, a strong signal was sent to the Biafransthat if Buhari could support Palestinian struggle for independence, mutatis mutandi, he should equally support the Biafran struggle for independence. Unfortunately, the so called experts around PMB failed woefully in advising him that foreign policy is an extension of domestic policy. Your house cannot be burning of separation and you are endorsing separation elsewhere. Possibly, PMB forgot the sense of socio-cultural and historical link between South-east and Israel.
So far, so good, we have read how PMB's utterances and steps fuelled the strong and irresistible movement for the Sovereign State of Biafra. If PMB makes further mistakes, he should be certain that a referendum by UN will be conducted in the South-east to determine the popularity of this struggle and I can bet you the break-up of Nigeria in 2015 as predicted by America may begin from there. A stitch in time saves nine.
Innocent OkadigboEbirim (mkpisiEdemede) a pro-democracy activist and media practitioner writes from Abuja and can be reached @ [email protected] 08176311555
Disclaimer:

"The views/contents expressed in this article are the sole responsibility of the author(s) and do not necessarily reflect those of The Nigerian Voice. The Nigerian Voice will not be responsible or liable for any inaccurate or incorrect statements contained in this article."