'COME CLEAN ON TUITION FEES', STUDENTS TELL POLITICIANS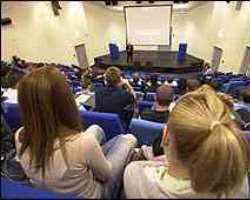 Student leaders accuse politicians of "hiding" over tuition fees
Political parties in England "need to come clean on tuition fees", says the incoming president of the National Union of Students, Aaron Porter.
Students say politicians are "hiding behind" a review, due to report after the election, to avoid questions on university funding and student fees.
"We are disappointed by the lack of open debate," said Mr Porter.
Les Ebdon, of the Million+ group of universities, said voters "deserved to know" higher education funding plans.
With record numbers of people seeking places in university and growing pressures on public spending, the decisions over the future of university funding are going to be controversial and far-reaching.
But so far in the campaign "the future of universities and students has hardly been mentioned", says Professor Ebdon.
There are 2.5 million people either studying or working in higher education, he says, and there needs to be a public debate over whether universities will be targeted for investment or cuts.
Record applications
A review of university funding was announced in 2009 – but this is not due to report until after the general election.
Student leaders accuse politicians of "hiding behind" this review to avoid answering difficult questions on fees and financial support for students.
Tuition fees are currently £3,225 per year in England, but the review will consider options such as raising fees or charging a more commercial rate on student loans.
Politicians will also have to decide how to respond to a surge in demand for university places – with a 16.5% year-on-year rise in applications.
Student numbers are already at record levels. For the first time ever, more than half of young women and 40% of young men are going to university – raising questions about who is going to pay for the rise.
Students want these major decisions on tuition fees, financial support and funding extra places to be publicly debated during the election.
All three of the biggest parties now support an increase in university places – but the Million+ group says there are unanswered questions about whether budgets will be protected to make this sustainable.
Spending cuts
Public spending cuts have already seen university budgets reduced for next year.
The Labour manifesto promises extra places, but makes no commitment on how much students will have to pay – referring instead to the funding review.
The Conservatives also promise extra places and say that they will "consider carefully" the outcome of the funding review.
The Liberal Democrats are promising to phase out tuition fees over the next six years – at a cost rising to £1.8bn a year.
The National Union of Students wants to mobilise student voters over the issue of fees, particularly in constituencies with a large student population.
They are asking candidates to pledge not to vote for an increase in tuition fees – and the union says that 800 candidates have signed.
"Come polling day any candidate who hides behind the review and refuses to come clean on their position on tuition fees will be punished at the ballot box," says Mr Porter.