Court grants bail to Metuh at N400m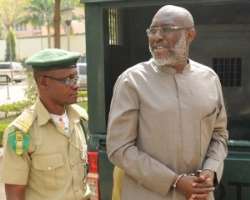 PDP slams FG for Metuh handcuffing
Federal High Court in Abuja presided over by Justice Okon Abang on Tuesday  granted bail to National Publicity Secretary of the People's Democratic Party (PDP), Olisa Metuh, to  the sum of N400m on thealleged fraud charges brought against him by the Economic and Financial Crimes Commission (EFCC).
Metuh was brought to court handcuffed.
Metuh, who is alleged to have benefitted to the tune N400 million from the $2.1 billion arms money which was allegedly misappropriated by the former National Security Adviser, Sambo Dasuki, was asked to provide  two sureties in the sum of N200m each who are required to have properties in the elite Maitama District of Abuja before he can have access to bail.
The party said the development clearly betrayed an extra-judicial, top political witch-hunt policy of the APC, carefully designed to humiliate, embarrass and portray PDP leaders as common criminals and set
The court said that Metuh's sureties must swear to affidavit of means, provide two years tax clearance while the ownership of their properties must be confirmed at the Abuja Geographic Information Service (AGIS) by the Chief Registrar of the Federal High Court, Abuja and a lawyer to the EFCC.
He also required  to submit his travelling documents to the Chief Registrar of the court while his two sureties must deposit their two recent passport photographs with the apex court.
Meanwhile, Metuh will remain in Kuje prison custody in Abuja until he fulfills  conditions for the bail
Metuh, who has been in EFCC custody for the past three weeks was handcuffed into the court premises on the ground that his conduct in the prison custody and EFCC have been against the law especially in incessant attempt to destroy evidence against him.
But the PDP is not pleased at all.  The  party condemned what it called the brazen display of authoritarianism by the President Muhammadu Buhari-led All Progressives Congress -led government in handcuffing Metuh even when the court was yet to hear his case.
The party's statement reads,  "The PDP invites all Nigerians and the international community to note the emerging barefaced abuse of state power and violation of constitutional provisions regarding the arrest, detention and eventual arraignment of our spokesperson. Nigerians by now, should be extremely scared that our country is fast drifting into a police state where being in opposition or holding views divergent to that of the government makes one a criminal and an enemy of the state.
"For now, the target of the on-going lopsided war against corruption is the PDP and its leaders while APC members, including those with known corruption issues are immune from investigation, arrest and prosecution."