Film on Obama's first date 'Southside with you' to make debut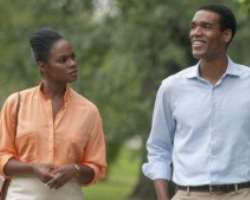 As the Obamas begin their final year in the White House, a new movie debuting at the Sundance Film Festival aims to tell the First Family's origin story, with a focus on their first date on the south side of Chicago.
Richard Tanne, an actor and first-time feature director, conceived of the idea for Southside With You back during Barack Obama's first campaign for president, when the then-senator from Illinois didn't look much older than the 25-year-old who convinced Michelle Robinson to join him for a long afternoon in the summer of 1989 (watch an exclusive clip above). The years to come would give the Obamas the sort of eminent biography that could — and probably will — occupy whole generations of filmmakers, but Tanne kept his eyes trained on their very beginning.
"I tried to stay away about anything from their lives that took place after the summer of 1989," Tanne told Yahoo Movies. "I was only ever looking to tell the story of the first date. And I think that, in order to just capture that moment in time, it was important to take into account everything in their lives only up until that point. Because to consider the events that came after would almost be somehow winking or nodding at what was to come. And I just wanted to make this about that one moment in time."
While the Obamas made history in the White House, Tanne read whatever he could get his hands on about the couple; he dove deep into their early biographies, up to and including when they met at the Sidley Austin law firm in Chicago (where Michelle was Barack the intern's adviser). He didn't start on the screenplay until 2013, when the actress Tika Sumpter ( Ride Along ) was given his outline by a mutual friend and urged him to get writing — she wanted to play Michelle, and he knew from the start she was the right choice.
Finding the perfect Barack was a little bit trickier. They went through the traditional casting process, with auditions and tapes galore, before seeing Parker Sawyers on the roster given to him by an agent for another actor they were considering. Sawyers, who has played small roles in Zero Dark Thirty and Jack Ryan: Shadow Recruit , was the spitting image of the young Obama, but when he first sent his audition tape, Tanne had some major concerns with his performance.
"His physical mannerisms and look was uncanny, but I was put off at first because he was doing a straight-up impression of Commander-in-Chief Obama," Tanne said. "A lot of actors were doing presidential impersonations. And it was very hard to separate the guy on the page from the guy they see on TV every night."
Tanne's advice: "I said get the president out of your mind; you're just a guy trying to get a date with this girl." Sawyers immediately made the adjustment and won the part.
Sumpter and Sawyers in 'Southside With You' (Sundance Film Festival)
The screenplay that Tanne wrote was based on both research and conjecture, as is the case with many historical films — especially when the subjects are not available to comment. Both Barack and Michelle have reminisced on the date in books , interviews, and essays , but even their accounts have differed. Much of the conversation in the film is speculative, based on the Obamas' biographies to that point and the context of the times in which they were living.