HOSPITAL DEATH RATES 'TOO BLUNT' TO MEASURE PERFORMANCE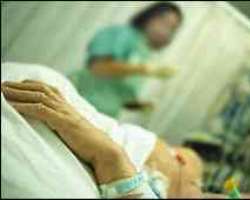 Hospital death rates are a controversial measure
Death rates are a poor measure of hospital care and should not be used to trigger public inquiries, experts say.
The British Medical Journal analysis argued the figures were a "poor test of quality" and urged inspectors to rely on other measures instead.
It contrasts with the pressure mounting on the Care Quality Commission to pay more attention to death rates produced by Dr Foster, a private research group.
The NHS regulator said death rates was just one part of the armoury.
The two experts in disease monitoring, Professor Richard Lilford, from Birmingham University, and Peter Pronovost, from Johns Hopkins University in the US, criticised the way death rates were used to castigate Stafford Hospital over the past year.
We do not use mortality rates to assess quality of care directly, but we do use them to direct where we need to dig deeper
Care Quality Commission spokeswoman
The trust has been heavily criticised by the NHS regulator, patient groups, MPs and in an independent inquiry for its "appalling care".
It was widely reported that an extra 400 people may have died as a result of poor standards – a figure which was based on average death rates.
But the experts said the claims were "precarious".
They concluded death rates were too blunt and were only being "kept alive by well-meaning decision-makers".
Mortality rates compiled by the likes of Dr Foster calculate whether the number of deaths at any given trust is above what could reasonably be expected once the mix of patients' ages and severity of disease is taken into account.
The figures are used by the NHS – and in particular the CQC – as a way of monitoring patient safety.
On their own, they do not count towards a hospital's individual rating.
But the CQC does use them as a way to cross-check whether what a hospital claims about its performance rings true.
In recent months pressure has grown on the CQC to give more emphasis to death rates following concerns about care at a number of trusts.
The regulator – as it has done with demands to pay more attention to them – said it felt it had got the balance right.
A CQC spokeswoman said: "We do not use mortality rates to assess quality of care directly, but we do use them to direct where we need to dig deeper, for example by conducting an inspection or requesting further information."
Roger Taylor, director of research at Dr Foster, said "high mortality rates should be one signal, along with others, that regulators take note of in deciding whether hospitals need to be investigated".