55 Nigerians stole $9 billion from economy in eight years: FG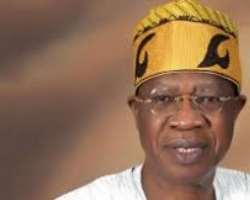 Minister of Information, Alhaji Lai Mohammed, said Monday that 55  people, including former governors, Cabinet ministers and government workers, stole $9 billion dollars from Nigeria's treasury.
The minister spoke in Abuja at a press conference to mark the beginning of  "national sensitization campaign."
According to him,  15 former governors stole N146.84 billion ($974m); four former ministers took N7 billion ($46m); 12 former public servants both at federal and state levels stole over N14 billion ($92m); eight other Nigerians in the banking sector made away with N524 billion ($3.5b) , while 11 businessmen cornered N653 billion ($4.2b) .

stealing
The looted money which  could have built 36 hospitals or educated 4,000 children through university, Mohammed said, was stolen between 2006 and 2013, when the naira stood at about 150 to the dollar, half today's value. Mohammed did not identify the 55 accused but said bankers and businessmen are among them.
The minister said that using World Bank rates and costs, one-third of the stolen funds could have provided 635.18 kilometres of roads; 36 ultra-modern hospitals per state; 183 schools; educated 3,974 children from primary to tertiary level at 25.24 million per child and built 20,062 units of 2-bedroom houses.
Mohammed said, "This is the money that a few people, just 55 in number, allegedly stole within a period of just eight years. And instead of a national outrage, all we hear are these nonsensical statements that the government is fighting only the opposition, or that the government is engaging in vendetta."
He dismissed allegations of bias by the Buhari administration in the fight against corruption, saying that that the Buhari administration would never be biased in the fight against corruption.
The minister  warned that no person found to have stolen public funds would go unpunished irrespective of their political, religious or tribal leanings.
The minister dismissed the accusation that the federal government's anti-corruption crusade was lopsided, describing the allegation as nauseating and borne either out of deliberate mischief or sheer ignorance.
He said, "There is the erroneous impression out there that the war against corruption is a vendetta against the opposition, and that indeed it is one-sided. This is not true and indeed very nauseating. We need the media to lead the campaign against corruption.
"All we have heard from them are ludicrous reasons why they partook in sharing of the money. One said he collected N4.5 billion for spiritual purposes, another said he received N2.1 billion for publicity, while yet another said he got N13 billion to pay someone else for the Maritime University land.
"Based on these revelations, should we now fold our hands and allow these people to go away with public funds? Is anyone thinking about the innocent soldiers who lost their lives just because they did not get the necessary weapons to fight the terrorists?
"What about the families left behind by these soldiers who were sent to their early graves because of the misappropriation of these funds? What about those who lost their means of livelihood after the terrorists overran their towns and villages? What of the millions of Nigerians, especially women and children, who are now living in IDP camps?
"Is it not clear that the cruel fate that has befallen these unfortunate people is a direct result of the misuse of the funds meant to fight the terrorists? Are these not the true costs of corruption? he asked.
The minister pleaded with all Nigerians to join hands with the government to tackle corruption so as to plug the loopholes of financial leakages for national development.
"As President Muhammadu Buhari likes to say, if we don't kill corruption, corruption will kill Nigeria. There is no better way to say it," the minister said.
The funds include $2.1 billion meant to buy weapons to fight Boko Haram's 6-year-old Islamic uprising that has killed some 20,000 people but instead was diverted to the election campaign of former President Goodluck Jonathan and his party, Mohammed said. Jonathan lost March 2015 elections to former military dictator Muhammadu Buhari, who promised to halt corruption and the insurgency.
Buhari said Monday that a multinational force has driven Boko Haram into "fall-back positions" and uprooted them from all territory they held.
Nigeria's judiciary is critical to the fight, he said. Three different courts have granted bail to Jonathan's former national security adviser, Sambo Dasuki, who is accused of being instrumental in the theft of the $2.1 billion and has said he diverted the money on Jonathan's orders. Buhari has said he will not allow Dasuki out of detention.
- with agency reports