FG revenue crisis deepens as oil hits $28, $10 below 2016 budget benchmark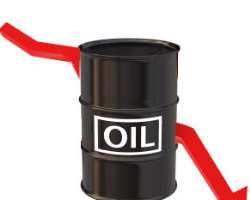 Worries about Iran's return to an already oversupplied oil market drove down global benchmark, Brent crude on Monday to as low as $27.67 per barrel, its lowest since 2003, before recovering to trade at $28.50.
With the further slide, Brent, against which Nigeria's oil is priced, was almost $10 lower than the oil benchmark price of $38 per barrel proposed by President Muhammadu Buhari for this year's budget.
Buhari had in the 2016 to 2018 Medium-Term Expenditure Framework and Fiscal Strategy Paper sent to the National Assembly for this year's budget said oil-related revenues were expected to contribute N820bn.
The price of the Nigerian crude oil, Bonny Light, fell to $28.93 per barrel as of Monday, compared to $29.47 last week, according to latest data obtained from the Central Bank of Nigeria.
Iran's Deputy Oil Minister, Roknoddin Javadi, on Monday expressed confidence that his country could produce extra 500,000 barrels per day. Iran has the fourth largest proven oil reserves in the world, according to the US Energy Information Administration.
The United States over the weekend revoked sanctions that had cut Iran's oil exports by about two million barrels per day since their pre-sanctions 2011 peak to a little more than one million bpd.
The potential return of Iranian oil exports to South Africa threatens to displace barrels from Saudi Arabia and Nigeria that plugged the supply gap when sanctions were imposed on OPEC's fifth-biggest producer, according to Bloomberg.
'The re-emergence of Iranian crude oil provide options for those willing to buy from Iran,' the Executive Director, South African Petroleum Industry Association, Avhapfani Tshifularo, said in an e-mailed response to questions.
'Iranian imports are likely to displace the Nigerian and Saudi Arabian crudes, since they seem to have filled the gap when South Africa stopped importing Iranian crude oil.'
The Head of Energy Research, Ecobank Capital, Mr. Dolapo Oni, said in a telephone interview with our correspondent, 'Nigeria's crude will continue to face challenges to sell because other grades are now cheaper and also attractive to buyers. The same revenue implication: lower revenue for the government.'
On the return of Iran to the market, he said, 'Iran remains a major threat to Nigeria in India, and that could affect trade this year. Before now, traders have had issues selling our cargoes.'
The Managing Director, Financial Derivatives Company Limited, Mr. Bismarck Rewane, had last week said, 'In 2014, the price of oil was $116 per barrel and the cost of production was $25 per barrel. The yield on every barrel was $91. Cost of production per barrel is still $25, the price is $30. So, the yield has gone from $91 to $5 per barrel. That is the magnitude of the problem.
'In 2008, we suffered for nine months only and oil price bounced back. But the average price of oil in 2009 was $61.9 per barrel; in 2016, the average price is projected at $45. External reserves in 2009 were $53bn; gross external reserves today are $28bn. The exchange rate in 2009 was N150 to the dollar at the BDC and official, 154. Today, the BDC is N300, while the official rate is N199. The Excess Crude Account was $22bn in 2009; it is $2bn today. The total external debt in 2009 was $10.4bn; while it is $17.1bn today.' Agency report