UK UNEMPLOYMENT INCREASES TO 2.5 MILLION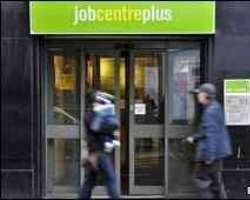 The latest figures give a mixed picture of the UK labour market
The number of people unemployed in the UK rose by 43,000 to 2.5 million during the three months to February, official figures have shown.
The jobless total is now at its highest since 1994.
The rate of unemployment now stands at 8% – the highest since 1996 – the Office for National Statistics said.
However, the total number of people claiming unemployment benefit fell in March by 32,900 to 1,54 million – a much sharper fall than expected.
The ONS figures showed youth unemployment rising, with 929,000 16 to 24-year-olds out of work in the December to February period – a rise of 4,000 on the previous three months. CHANGES IN UNEMPLOYMENT TOTALS ACROSS THE UK
Yorks/Humber: Up 13,000 to 253,000
East Midlands: Up 13,000 to 180,000
North West: Up 11,000 to 290,000
East: Up 11,000 to 198,000
South East: Up 11,000 to 284,000
Scotland: Up 6,000 to 208,000
South West: No change – 170,000
Northern Ireland: Down 1,000 to 53,000
North East: Down 3,000 to 120,000
West Midlands: Down 6,000 to 253,000
Wales: Down 10,000 to 131,000
London: Down 22,000 to 363,000
Source: ONS
Unemployment among the over-50s rose by 7,000 to 396,000.
The figures prompted mixed reactions from City economists.
Vicky Redwood, economist at Capital Economics, warned the figures pointed to a jobless recovery in the UK economy, particularly with public sector cuts looming further down the line.
But Brian Hilliard from Societe Generale was more optimistic.
"The labour market is in far better shape than we dared to hope for at this stage of the economic cycle," he said.
Figures from the ONS also showed a rise in wages for those still in work.
Average weekly earnings including bonuses were up 2.3% in the three months to February compared with the year before.