LEADERSHIP LESSONS FROM MADUMERE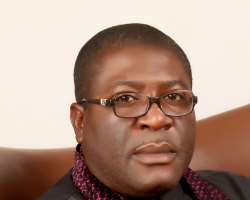 Leaders are born and not made. So goes popular maxim that has remained timeless and true. We have leaders everywhere and indeed, everybody can lay claim to leadership but at the end of the day only a handful of these claimants can produce leadership examples that can be copied by succeeding generation of leaders. Man have argued and rightly too, that the dearth of great leadership had been the bane of the country since 1960 in or out of office.
Its an open secret that most of those who find themselves in power here leave nothing worthy of emulation. They assume power and go through the motions without solid legacies. We have even seen instances where even foundations are not laid giving rise to the present state of underdevelopment that has held us at the jugular for too long. Nigeria's problem its been said is simply and squarely a failure of leadership.
It has kept us in perpetual darkness. It has kept us in the abyss of infrastructural deficit; decayed education system and comatose health institutions. Just mention it.
Somehow we are beginning to see light at the end of the tunnel! This, at least ,has been the case with Imo State in the last four and half years of the adminstration Governor Rochas Okorocha. The administration has done so much that inside the state a consensus is growing that democracy and leadership have rebounded in the state. Those who hold this opinion and they are quite legion, are also ready at any point in time to reel out facts and figures in support of their position.
They would readily inform you that Governor Rochas Okorocha has transformed roads in the state. In the same token, they have been heaping praises on him for what he has done in the education sector. Try as they can, critics of the government have found these areas a hard nut to crack. And this no doubt has gone a long way in reinforcing the general belief around the state that something happened in these sectors and State generally.
Looking at what the Rescue Administration has put in place in the state we can safely say that the governor is a seasoned pilot.
He has kept focus on his radar thus, the smooth sail that the state and, its people have been enjoying.
Governor Okorocha is blessed with an equally focused back-up team. Leading the pack is his deputy, Prince Eze Madumere who has been so outstanding since the administration debuted four years ago .He has been the trusted, obedient, hardworking and a very proactive lieutenant providing the much needed backup support that has seen his principal stand head and shoulders above his contemporaries.
Perhaps, it is recognition of this contribution that the governor is always quick to praise his deputy. He has never as an appreciative father failed to use every available opportunity to show how happy he has been with his deputy's numerous contributions toward the realization of the policies and programmes of his government. Gov Okorocha has always told every gathering he addressed that here is our son in whom we are well pleased.
Surely, this is a glowing tribute. But, what has always added colour to it is because it is always from the boss to his boy and not vice versa. In Nigeria where the executive heads at the Federal and State levels boast of almost limitless powers and resources, it is rare seeing leaders openly laud or pass vote of confidence on their aides. What happens here is that aides of chief executives and even the legislature, in their desperate push for lucre, pass vote of confidence on governors and even the president, whether merited or not. We have always had the misfortune of watching in consternation while these gullible aides fall over themselves in this despicable act. But, in the wake of such hollow rituals both those who endorsed and those they endorsed hardly feel any sense of accomplishment and fulfillment.
They discover to their chagrin soon after undertaking such fruitless endeavours that such were exercises in futility and a waste of time and resources. And that is a far cry from the exemplary scenario in Imo State. For a governor to openly and publicly endorse his deputy means that he has seen some leadership qualities in him, and therefore, felt duty bound to open up. This gesture no doubt mirrors the open, sincere and appreciative heart of the governor. More than anything this consistent open endorsement can be seen as the governor's indirect way of telling his appointees and indeed, all politicians and aspiring ones to look in the direction of his deputy for exemplary leadership qualities that should be borrowed.
Indeed, this is the truth. For one in the four years he has being in leadership position, Prince Madumere has become a benchmark for measuring humility in power. Many Imolities regard the State deputy governor as the most humble and easy going man in the present administration. It is very much a fact of reality that since ascension to power he has controversy free and his name and integrity intact.
He is also at home with everybody class or status in life notwithstanding. Surely, this open door policy is major reason why his office is always a beehive of activities every office day. It is same story when he steps out of his office. Recently, I came face to face with his fabled humility during a burial somewhere in Ngor-Okpala L.G.A. When he arrived that day shortly after the interment of the matriarch of the family he came to condole their sitting room was already filled to the brim with guests. As he walked into the sitting room those carrying our service, perhaps, in a bid to create sitting space for him made to drive everybody out but, Prince Madumere objected squeezing himself into an available space in the parlour.
It was just like an ordinary man had walked in. in our clime, where those in power would always want to show off power his display of humility no doubt caught people off guard. But, for me, it actually cemented my perception of the man. My conclusion there and then was that Imo has never had such a deputy, and may not be so blessed again in the future.
Inside the Rescue Government the man has equally been showcasing this rare virtue. He has been digging deep into his bag of wisdom to help his principal surmount the many challenges and distractions of governance and true to type he has never failed. On many occasions he has been the target of many schemes and sinister plots within and outside the corridor of power but always he has emerged unscathed to the admiration of men of good conscience and great pain of his traducers.
Imolites have consistently praised him for this wonderful disposition. According to those in this school of thought the deputy governor's style averted a lot of problems for the administration. If he is the type given to revenge there is no doubt that the polity would now and then be heated up thereby slowing down the movement of the rescue train. And once the polity is hot, governance and service to the people would suffer. In the long run, the government which he is an insider would be the loser as people would accuse it of not working hard enough for them. Madumere as an unrepentant Rescue Missionary knows all these and therefore, has in the face of all provocations kept calm so as not to rock the Rescue ship.
Aside his unassuming disposition, insiders in the current administration also brand him a team player. As chief of staff to Governor Okorocha, he abundantly manifested this good corporate culture and within few months of the administration to provide the necessary administrative framework for the implementation of the cardinal policies of his principal.
He also worked harmoniously with other aides inside and outside the seat of power. For the first time since 1999 he demystified the office of the COS which handedness of its previous occupiers. As the deputy governor, he is still very much committed to the Rescue Mission philosophy. Due to the high level of confidence his principal reposes in him, he has been sent on several important national and party assignments. At home too, he has always been at the disposal of the Chief rescuer while diligently overseeing the parastatals and boards assigned to him by law. Although the task has been tough and daunting, Prince Madumere has been wading through because he believes in collective responsibility and therefore, allows everybody to do his or her own assigned tasks. However, he never glosses over supervision to ensure that everything done is geared toward adding value to the administration and by extension, the state.
Pundits assert that his greatest weapon is his unquestionable loyalty to his principal. Of course, this assertion is correct. In politics like the military, loyalty is everything. Prince Madumere has totally exemplified loyalty and made everybody proud. One believes that if our politicians can learn this lesson, our politics would move away from the current culture of do or die.
Indeed, Imo deputy governor has taught us life changing political leadership lessons and it is hoped that we imbibe them for the good of the Imo Rescue government and that of our dear state. The youth in particular have a lot to learn from this man and now to me, is the best time, to start learning.
Chinedu Opara writes from Owerri, Imo State