Serena stunned by 'Supergirl'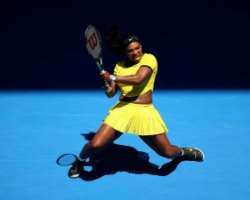 Serena Williams Monday said she was stunned by the reaction to a Facebook post she made that went viral, comparing herself to Supergirl after chasing down a hapless telephone thief.
The world number one revealed in November that a thief stole her phone at a Chinese restaurant in New York. The robber clearly picked the wrong woman, with the super-fit Williams chasing him the street and getting it back.
The American detailed the adventure on Facebook, complete with a picture of her in a Supergirl outfit, while urging her followers to: "Fight for what's right. Stand for what you believe in."
"I didn't think it would be such a big story. I thought I just would post it on Facebook because it was fun," she said after easing into the Australian Open second round.
"I didn't know it would be everywhere, every blog, every TV channel, and every radio station.
"People were calling me. My dad was worried. I just had no idea it would blow up like that. Yeah, so that was just completely unexpected for me."
The 21-time Grand Slam winner got a standing ovation when she returned to the restaurant, but she said she would react differently if the same thing happened again.
"Oh, God, no. I reacted and I didn't think," she said.
"It was just like, sometimes athletes just react. But I was really nice about it. He was really nice about it. It worked out. I got lucky."
Asked if any crime-fighting job offers had come her way, she replied: "Well, I'm still looking to get some action roles. Maybe a superhero. That's my dream."