Five Amazing Things Your Windows Lumia Can Do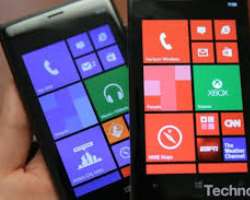 Our mobile phones have become an extension of who we are. They are our first port of call for communication, business, photography and entertainment.
Microsoft's range of Windows Lumia phones are no different. Not only are they sleek in design and easy on the wallet, but they also boast several features that make everyday life easier.
We picked out the top five things you probably did not know your Lumia could do. We think they are game changers no matter what you use your phone for.
1. Unlock your phone just by looking at it
Thanks to Windows 10's new Hello feature and an iris scanner located in the top right hand corner of the Lumia, unlocking your phone has never been easier. You can unlock your phone easily and securely, simply by looking at it – no PIN or password required.
To do this, go to Settings > Personalisation > Lock Screen > Sign-In Options. Find the Windows Hello option and once you've taken a few seconds to stare into the front-facing camera, you're all set.
2. Turn your phone into a PC
The Continuum feature allows you to turn your Lumia into a fully-fledged PC simply by connecting it to Microsoft's Display Dock, a mouse and keyboard, and an external display. Just like that, all your phone's content appears on the bigger screen, automatically adjusted to fit the new size and resolution. It looks just like Windows 10 on a PC.
Even better, when your phone is connected to the external monitor and you are using the display to work in the Office apps or let your kids watch a movie, you can continue to use your phone to check emails and answer calls. If you don't have an external mouse, you can also choose to use your phone's screen as a trackpad.
3. Take great photos wherever you are
The Lumia's 20-megapixel sensor, Zeiss optics and triple LED natural flash all mean the photos you take on your phone are of higher quality than ever before. Added to this, the phone's camera reacts to its environment so that you can get the best possible shot no matter the conditions. For example, if you're trying to get a photo of your child on the soccer field, your phone will adjust its own shutter speed to capture the shot without the usual motion blur.
4. Make your phone child-friendly
For those parents who know all too well how it feels to have children who are more tech-savvy than you are, this one's for you. Windows Mobile's Kid's Corner feature separates pre-selected content such as apps, videos and games that your kids can access. No more worries about them getting their hands on unsuitable content or sending an inappropriate email to your boss.
To activate this feature on your Lumia, go to Settings > Accounts > Kid's Corner and select which content you'd like to make available. Once it's set up, you can access Kid's Corner by right swiping from the lock screen.
5. Track your movements to stay healthy
It's never been easier to keep track of your health and fitness, with a little help from your Lumia. The phone tracks your movements so that your health apps can use the data. To customise how this works on your phone, go to Settings > Extras > Lumia Motion Data and select your options. You can switch between basic and detailed data collection to choose whether to include your standing, walking, running, driving and cycling data.
Making life easier
Besides these features, the Lumia also has a host of shortcuts to make using your phone as easy as possible. For example, the Outlook email app has gesture-based actions and shortcuts; SMS Messages can integrate with Skype; and the Quick Reply feature means you can see your messages and pull down to reply to them without switching from whatever you are doing.
Whatever you use your phone for – work or play – these features and shortcuts are designed to make your life easier. Give them a try and see how they work for you.