Ooni pays historic visit to Alaafin of Oyo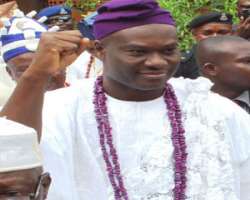 The newly-crowned Ooni of Ife, Oba Adeyeye Ogunwusi, on Sunday, paid a historic visit to the Alaafin of Oyo, Oba Lamidi Adeyemi, who celebrated his 45th coronation anniversary.
The visit by Ooni was unique as he became the first Ife monarch to visit the Alaafin since 1937.
The visit was equally exceptional, especially with the rivalry over supremacy that existed between the Alaafin and Ogunwusi successor, Oba Okunade Sijuade.
About 100 Yoruba traditional rulers witnessed the historic visit.
At the Methodist Church, Apaara, Oyo, where the thanksgiving to mark the anniversary of the Alaafin's coronation was held, there were mixed feelings among those who celebrated with Alaafin after it was announced that the new Ooni had reached Oyo to celebrate with Alaafin.
Ogunwusi arrived at the church to the warm embrace of the Alaafin, who shook hands with him as the congregation watched and expressed admiration for the historic union.
Speaking on the visit, Alaafin said it was the first by any Ife monarch since 1937. He also said that although he did not enjoy cordial relationship with the past Ife monarch, he related well with the other Yoruba obas, while also commending the Ooni's move to reconcile all Yoruba obas under a strong umbrella.
He said, 'May your reign be long, Ooni.‎ I am happy with Ooni Ogunwusi's moves to unite all Yoruba Obas.
'This special visit was done last in March 1937, that was the first time the kings in Yorubaland met in Oyo town and today history was made with the visit of Arole Oodua Enitan Ogunwusi, Ojaja II and I feel delighted to host you and to reassure you that I will be ready to work with you.
'I have a tight relationship with Ooni Adesoji Aderemi and I did not want to relent my bound with any Ooni of Ife that assumed the post but everybody has his own little differences'.
On his part, Oba Ogunwusi said he recognised the place of Oyo monarch in Yoruba history, adding that a new dawn had fallen on Yoruba monarchs and the people.
He said 'It is a new dawn for all Yoruba sons and daughters around the globe… I am here today though not invited but as the Arole Oduduwa, the onus is on me to felicitate with all sons and daughters wherever they are and to show my solidarity for any of them.
'I am ready to damn any consequences or insinuations from anywhere; my mission here is to preach peace among nations of Yoruba both home and abroad and I am ready to work with Alaafin of Oyo, Oba Olayiwola Adeyemi to project the unity and love which we believe is existing in days of our forefathers.'
After the service, the monarchs and other well wishers moved to the Alaafin palace where Oba Ogunwusi was entertained in a lavish ceremony. The two monarchs also had a private discussion in the inner chamber of the palace for about 20 minutes. Punch