Gov. Ugwuanyi's intervention on child ailment yields dividend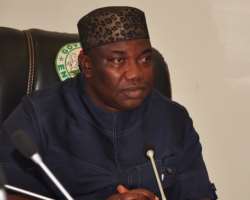 A motherless child, Master Uchechukwu Nwachukwu, who had undergone asurgery of brain ailment called conjenitus hydrocephalus and financed by Governor Ifeanyi Ugwuanyi of Enugu State, has been discharged after a successful operation at Memfy's Neurosurgery Hospital Enugu.
Briefing the press shortly before the discharge of the child at thehospital the state commissioner for health, Dr. Samuel Ngwu recalled that the child was identified by Governor Ugwuanyi on his visit at the Holy Ghost Motherless Home during his tour of less privileged homes in the state and directed him to cause immediate surgery on the child after paying the expected bill of two million naira for the surgery.
He added that with the successful operation held at the hospital by Prof. Sam Ohaegbunam that the swollen head of the child will reduce.
However, the child has been referred to the state Parklane Hospital where he will receive anti-biotic drugs for about three months.
In a brief remark on the occasion, the physician who performed the operation, Prof. Sam Ohaegbunam noted that the ailment was caused by the expansion and pumping of blood in the head which makes one's head to be bigger adding that this damages the brain.
He regretted that the ailment has not been diagnosed early enough which he said made the child's head to be bigger than his body.
He added that the child will be on constant check by a doctor because once the case appears,  it is always there, adding that constant monitoring is needed to ensure that all organs are working to avert future occurrence.
He commended Governor Ugwuanyi for refereeing the child's case to Nigerian doctors, adding that some people would refer the child to a hospital outside Nigeria.
He called on all others to emulate the governor by using indigenious doctors in such cases.