Gov. Okowa's Clueless Government And Mr. Sunny Onuesoke Incessant Atracks On APC Delta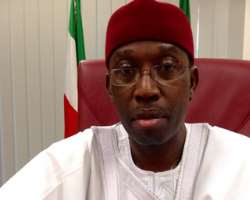 It has become obvious that Chief Sunny Onuesoke, the self acclaimed Chief Press Secretary to Gov. Okowa is worried about the dwindling popularity of his principal in recent times.
In his lastest onslaught on the convener and Director of Strategic Political Communication of Rescue Delta Media Group (RDMG) of Delta APC, Dr Fred Latimore Oghenesivbe, Mr Onuesoke accused him and the APC of consistent attempt to ridicule the efforts of government and the governor in the management of state affairs and financial resources.
In response to Onuesoke's wailing and unfair criticism of Delta APC, RDMG which to state as follows:
1. That it is not possible for the APC and her media team to praise or commend governor Okowa and his administration when it is glaring and obvious that poverty and criminality have escalated since May 29, 2015 till date.
2. That it is an open FACT that a medical doctor and a traditional ruler were kidnapped in the face of renewed violence in the state. Gov. Okowa has shown enough inability to provide adequate security for Deltans which is why trigger happy agitators in Effurun and other parts of the state are wrecking havoc on innocent citizens with little or no solution by Okowa as Chief Security Officer.
3. That Delta State at the moment is owing a whopping N1.5 trillion and the governor failed to clearly articulate how these debts will be paid so as to guarantee prosperity and development in the three senatorial districts. Over N5 billion is devoted to service debts monthly in Delta State. What a pity!
4. That Okowa and his kitchen cabinet refused; for reasons best known to them, to probe the Delta power IPP project which sunk over N80 billion of state government financial resources.
The company, DavNotch Nigeria Ltd and former Speaker Victor Ochei were paid N25 billion upfront towards the actualization of the power project but nothing happened on site till date. APC DELTA demanded from Okowa to probe this scam and high level corruption. Onuesoke said since Okowa did not award the power IPP contracts it will be unconstitutional for the governor to probe the looters. And yet he says Okowa is not confused!
5. That the fraud associated with Asaba International Airport construction and upgrade contracts awarded so far should undergo forensic audit so as to expose the monumental fraud therein. But alas, Mr Onuesoke preferred to attack our request by saying that APC and its media team have no right whatsoever to request for probe of over inflated contracts and looting of Delta State funds through upfront payments for contracts not executed.
7. That the sacked 3,000 young workers of the Delta State government by Gov. Okowa is in total conflict with his "PROSPERITY FOR ALL DELTANS" electioneering campaign slogan. APC Delta consistently urged Okowa to recall these frustrated and hungry workers back to work. In response, Mr Onuesoke on behalf of the state government said that our request is irresponsible and unconstitutional.
8. That we told the governor to probe DESOPADEC and Chief Williams Makinde over the alleged reckless looting and mismanagement of the commission's funds as a result of series of protests by youths and leaders of beneficiary communities across the state. Again, Onuesoke preferred to say that our position is irresponsible and unconstitutional.
9. That we told Deltans and Okowa administration that the STEP, SMART, etc so called prosperity programmes of the state government are bedeviled with falsehood and corruption and that those undergoing the KANGAROO training are starving to death and uncared for. Again, Onuesoke carpeted the APC saying that the trainees were in paradise; only for the S.A. to Governor Okowa on Political Affairs, Kent Okiemute Kigho to rush to Songhai camps to calm the nerves and rising temper of the frustrated youths.
10. That we said the series of problems facing the Okowa administration ranging from corruption to fake empowerment training programmes without hope of adequate funding of participants to establish small scale businesses after training is a pointer to the fact that Gov Okowa lacked vision, confused and without moral integrity to govern the state.
11. That Gov. Okowa blunt refusal to probe corruption in the state agencies, commission, ministries, department and parastatals is a strong indication that the governor is not only corrupt but also lost focus and bereaved of ideas to move the state forward. This again irritated Onuosoke and called APC and Dr Fred Latimore Oghenesivbe all sorts of unprintable names.
12. That the sack of the democratically elected Chairman of Uvwie LGA, Engr. Henry Baro by the state governor in connivance with the DTHA Speaker, fractured constitutional provisions and that the panel constituted to probe the alleged financial allegations against the Uvwie Chairman ought to present its finding to resolve issues raised.
Till date and after eight months Okowa's panel failed to submit any proof of financial fraud against Baro. The crisis is escalating and becoming a threat to public security. This also is one of the lapses in Okowa clueless leadership and tyranny in the state.
Yet, Onuesoke says Okowa actions and tyrannical government cannot be questioned by Deltans.
12 (b). That Law faculty of DELSU is about to collapse as NUC is set to withdraw accreditation. Okowa is doing nothing about it until the students are provoked to violence and demonstrations. Yet Onuesoke says APC and Dr Fred Latimore Oghenesivbe observations are useless and irresponsible!
12(c) That OKADA riders are in pains and agony over huge taxes and annual ticket fees (N135, 000 per annum) to operate. We decided to ask Okowa: "Where is PROSPERITY FOR DELTANS?" Again, Onuesoke countered out outburst saying that the state government must tax Okada riders to generate revenue to develop the state.
Whereas Okowa failed to probe and recover the over N80 billion SCAM in Delta Power IPP project. Poor OKADA riders are the only hope of the state government to generate revenue. What a pity!
Conclusion:
Mr Sunny Onuesoke should be reminded that not everybody sees Okowa and PDP administration from his own perspective. What is uppermost to Deltans is job creation, deconjestion of the Labour market, infrastructural development, quality health care, free education at all levels in the state, good roads, clean environment via environmental services, economic growth and quality living standards for all and sundry.
It is not enough to steal the peoples' mandate, it is very important that resources of the state are properly managed to impact on the living standard of Deltans. Deltans are wondering why Okowa is deaf and dumb to calls for transparent leadership.
The acute corruption and looting of the state resources must stop and a probe panel inaugurated to investigate alleged financial frauds in DESOPADEC, Asaba International Airport construction and upgrade, the State Revenue Board, Delta State power IPP project and other cases of alleged misappropriation of funds.
Until Gov Okowa take decisive and proactive steps to expose corrupt public officers in various department and agencies, the credibility of his administration will remain questionable.
Mr Onuesoke wailing and firebrand press statements and releases; attacking APC and Dr Fred Latimore Oghenesivbe will continue to be exercise in futility.
Gov Okowa is confused, frustrated and lacks moral integrity to provide good governance in Delta State.
Deltans will have to wait a little more for APC to lay a solid foundation for development and socioeconomic remodeling of the State.
Signed:
Charles Onokuta
Deputy Media Director,
RESCUE DELTA MEDIA GROUP (RDMG), Asaba, Delta State.
E-mail: [email protected]
January 14th, 2016.