Khloé Kardashian opens up on Lamar Odom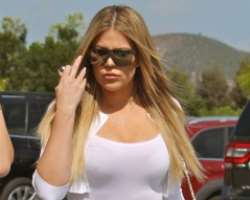 Khloé Kardashian isn't covering up Lamar Odom's cheating past.
More: Khloé Kardashian's will to help Lamar Odom may impact her current relationship
As Kardashian has been by Odom's side throughout his health crisis, she revealed to Howard Stern in a new interview Wednesday that it doesn't change their past, which included a lot of infidelity by Odom.
" Lamar was so great at making me feel like I was the only one and I'm this princess ," she revealed. "I never speculated cheating."
But after Odom was arrested for a DUI, Kardashian learned that he kept secret cell phones that his assistant would use to text and call his mistresses to hide his side action from Kardashian.
"He was really crafty," she said. "It was disgusting and I was pissed at the assistant."
The rumors were covered in celebrity gossip magazines, but Kardashian said she was reluctant to believe them until they really piled up and she realized "where there's smoke, there's fire." When she confronted Odom about one woman who gave a particularly "adamant" interview about her relationship with the NBA star, Kardashian said his response was to shrug it off, saying, "Oh that's a teammate's girl."
Kardashian added, "I genuinely am blown away by when did he fit that in."
Despite their troubled past, Kardashian also revealed that she has no regrets about her relationship with Odom.
"I know he loves me. I know we loved each other. I don't question those feelings," she said. "I've always asked why. Lamar does… did struggle with substance abuse. I do believe he has a sex addiction, but I also don't know if I believe in a sex addiction that much."
And although Kardashian and Odom tied the knot after dating only a month, despite her family's objections, Kardashian said she wouldn't take that back, either.
"Yes, I'm sure people will say it was a mistake for me. I wouldn't change what I did because it was also some of the best time of my life," she explained. "I wouldn't say it was a mistake. I needed that experience. The love I received was the love I needed at that time."