Lassa fever kills doctor in Rivers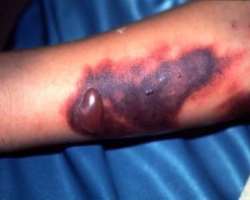 The first casualty of a medical personnel from suspected infection with Lassa fever has been recorded in Rivers State.
As expected Panic has gripped doctors, nurses, medical personnel and patients of the Braithwaite Memorial Specialist Hospital, old GRA, Port Harcourt, the Rivers State capital, southern Nigeria, following the death of a doctor in the Emergency Unit of the hospital suspected to have contracted the deadly Lassa fever disease.
Consequently, there are fears that other doctors, nurses and other medicare providers in the emergency unit who have first contact with patients on emergency in the hospital may have all contracted the highly contagious viral disease.
Dr. Furo Green, Chairman of the Nigerian Medical Association, Rivers branch confirmed the death of the doctor and gave his name as Dr. Levi A. Njamala, who was said to have contracted the disease from a female patient he conducted Caesarean Section at the emergency unit of the hospital.
Dr Green warned those who are still "doubting that the deadly Lassa Fever epidemic is right here with us in Rivers state should have a rethink. Doctors, patients and their family members have 80 percent risk factor."
Dr Levi Njamala of the Department of Obstetrics and Gynecology who took ill after the CS operation did not suspect he had contracted the deadly virus, called in fellow doctors who tested him for Lassa fever virus which was positive.He could not survive further examinations as the doctor dropped dead.
-Emmanuel Ikechukwu