Arms deal saga: EFCC files 7-count charge against Metuh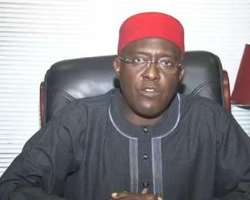 The Economic and Financial Crimes Commission (EFCC) has filed a seven-count charge of criminal breach of trust, corruption and money laundering against the National Publicity Secretary of the People's Democratic Party (PDP), Mr Olisa Metuh.
Metuh, according to the charges, transferred the sum of $1 million dollars through his agent, Nneka Nicole Ararume, to one Sie iyenome of Capital Field Investment committing an offense contrary to Section One of the Money Laundering Act.
He is also accused of receiving the sum of N400 million from the office of the former National Security Adviser, Col. Sambo Dasuki, without a contract contrary to the Money Laundering Act.
Metuh, is also accused of converting the said money to funds for political activities of the People's Democratic Party. .
Listed as witnesses in the suit are five commercial banks, a representative in the Office of the National Security Adviser, three investment houses and eight individuals.
The EFCC has however not indicated when the PDP spokesman will be arraigned.
The EFCC also said it has a valid court order to detain Metuh over alleged corruption related crime. – Channels.