Senate to receive report on missing budget today, says Saraki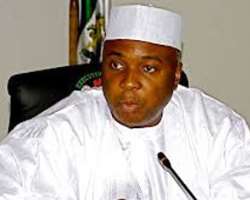 The Senate President, Bukola Saraki, has said that a committee saddled with the responsibility of investigating the controversy over the Senate's copy of the 2016 budget will submit its report today (Thursday).
Saraki, who gave the assurance on resumption of plenary on Wednesday, confirmed that the issue was discussed at the executive session of the chamber on Tuesday.
He said copies of the document would be distributed to members as from Thursday, adding that members would begin a three-day debate on the 2016 Appropriation Bill from Tuesday next week.
Saraki spoke on the confusion over the Senate's copy of the budget proposal after the Chairman, Senate Committee on Information, Senator Enyinnaya Abaribe, raised a point of order, drawing the attention of the Senate to the media report insinuating that the document was indeed, missing from the red chamber.
'The matter that I refer to is what is in every newspaper today, everywhere in all the talkshows on radio - of a missing budget and therefore Mr. President, I want to bring to your attention and all my colleagues that yesterday (Tuesday) at our close session, this matter also came up,' Abaribe said.
'Some of us have been inundated by messages from our constituents who are really worried about what their fate will be in 2016, and are asking about the whereabouts of the budget document.
'That is why I think it is definite and it is urgent that we look into this matter.'
Obviously boxed into a tight corner over the issue, Saraki said since all the senators were part of the issue as extensively discussed at the executive session on Tuesday,  it was better to wait for the report of the committee saddled with the responsibility of searching for the missing document.
'You know we are all part of the decision at the close session yesterday (Tuesday) and as part of that decision, we are still waiting for those we have referred to carry out the assignment to come back to us,' he said.
'I think they will come back to us by tomorrow and we will go into a closed session, finish up the report and we will be able to debate it properly.' - Punch.