Deputy Speaker, Yussuff Lasun Earns Nigeria Standing Committee Membership At CSPOC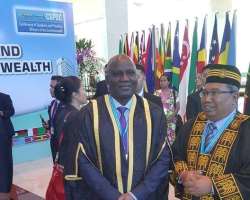 The ongoing 23rd Conference of Speakers and Presiding Officers of the Commonwealth (CSPOC) has given Nigeria edge to lead Lesotho and Seychelles to become standing committee members of CSPOC in Malaysia. This milestone was made possible due to the strident negotiations by Rt. Hon Sulaimon Lasun Yussuff, the deputy Speaker of the Federal House of Representatives.
CSPOC is a platform for parliament speakers and officers from Commonwealth countries to voice their opinions, share views and discuss the latest global issues. Record number of 43 nations attended out of 52 member nations, an occasion which was declared open by deputy prime minister of Malaysia, Timbalan Perdana Menteri. The conference was scheduled for January 9th to 14th, 2016.
This is also a forum for Parliament speakers and officers from Commonwealth countries to bring forward issues for the attention of member countries including matters relating to the environment, drugs, human trafficking, money laundering and lately, security.
The host country, Malaysia was the 13th Commonwealth country to organise the conference and this was the second time an Asian country became host after India. The conference is expected to be attended by 48 speakers and the Commonwealth Parliamentary gathering for five days.
Sabah which was chosen as the host community would display the various cultures and ethnic groups as well as the natural uniqueness of the state to all delegates.
The Nigerian delegation was led by the deputy Speaker, Rt. Hon. Lasun, with a resource person and former member of House of Reps, Hon Bimbo Daramola among others.