Fake B'Haram leaders defrauded Jonathan govt, says Presidency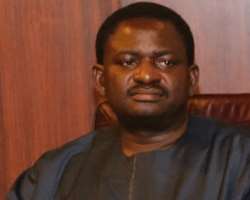 The Presidency has said the administration of former President Goodluck Jonathan negotiated with fake leaders of the Boko Haram sect in its bid to secure the release of over 200 girls abducted in their school in Chibok, Borno State, in April 2014.
The Special Adviser to the President on Media and Publicity, Mr. Femi Adesina, said this while featuring on a programme aired on Radio Continental 102.3 FM.
Adesina posted excerpts from the interview on his Facebook page on Sunday evening.
The presidential spokesman said in the process of negotiating with the fake sect leaders, the Federal Government under Jonathan was swindled out of millions of dollars before it realised that it had been deceived.
Adesina said the ugly experience formed part of the reasons why the present administration was being careful on the issue of the Chibok girls.
He said the position of President Muhammadu Buhari remained that the authenticity of persons, who claimed to be leaders of the sect, must first be ascertained before the current administration would engage them in talks.
Adesina added, 'We need to know a little bit of what happened behind the scenes between the last government and some people masquerading as the leadership of Boko Haram, who wanted to get the Chibok girls released.
'They actually turned it into a franchise, it became a commercial thing and they got money, possibly in millions of dollars, only for the government to discover it had been deceived.
'They kept saying they could get the girls released; they could interface with Boko Haram and they went laughing all the way to the bank with all that money, and nothing happened.
'So you should understand why this government is being careful and the President has said the genuineness of the leadership of Boko Haram must be determined before any negotiation takes place.'