Fayose Condemns Faleke, Audu's Arrest By DSS, Says "Nigeria Now Under Full-Blown Dictatorship"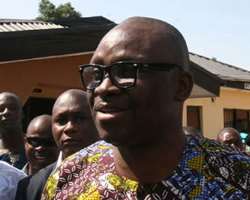 Ekiti State Governor, Mr Ayodele Fayose has described the yesterday's arrest and detention of the Kogi State Deputy Governor-Elect, Hon James Abiodun Faleke and Mr Mohammed Audu, son of the late former Governor of Kogi State and All Progressives Congress (APC) governorship candidate, Abubakar Audu, as a confirmation of his prediction that penchant for dictatorship will rise this year with rampant disobedience human rights abuses by the APC government of President Mohammadu Buhari.
The governor said even though Faleke and Audu were released very late on Saturday by men of the Department of State Security (DSS), Nigerians should by the arrest brace up for a full-blown dictatorship.
In a statement issued on Sunday, by his Special Assistant on Public Communications and New Media, Lere Olayinka, Governor Fayose said "it is now clear that Nigerians can no longer hold opinion different from that of President Buhari and his faction of the APC and this should worry lovers of democracy in the country."
He said arresting and humiliating Faleke and Audu by the DSS, just because they choose to pursue their rights within the ambit of the law was a dangerous trend that all Nigerians, irrespective of political party affiliation must condemn.
Governor Fayose said; "They started with Senate President, Bukola Saraki; later, the DSS invaded the Akwa-Ibom State Government House and those who should speak out kept silent because of politics.
"The DSS moved against the former National Security Adviser (NSA), Col Sambo Dasuki, invading his residences in a commando liked manner and when he got order from the court for the DSS to vacate his house, the order was ignored. Up till today, Dasuki is still in detention despite that he was granted bail by the court and he met the bail conditions.
"When all these happened to Dasuki, many of those who should talk, especially our so-called human rights activists kept silent because of politics. Now that it happened to Faleke and Audu, members of President Buhari's party who are not on the same page with him on the Kogi State election, should we also keep silent because it is APC affairs?Definitely no!"
"We are not going to keep silent because we are not in this to protect the interest of any political interest. Rather, our concern is the survival of democracy, which is obviously being threatened by the forces that have turned the DSS to their agent of political victimisation.
"Most importantly, Nigerians should know that tyranny does not know political boundary. The moment tyranny becomes full-blown, it does not even know its own family members. The only concern is its selfish interests and anyone that is against those interests must be pull down or whip to line."