A Power That Intoxicates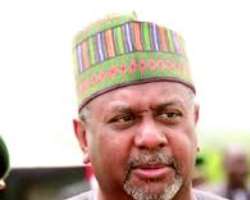 In recent months several high-level leaders have mysteriously lost their way. Colonel Sambo Dasuki , former National Security Adviser and a leading northern politician, was arraigned on charges of money laundering and diversion.
Examples abound of other recent failures:
•Most revered Pa. Olu Falae was said to have bitten from the big yam albeit unknowingly
So were many others including the near saintly President Muhammadu Buhari.
These TALENTED leaders were highly successful in their respective fields and at the peak of their careers. This makes their behavior especially perplexing, raising questions about what caused them to lose their way.
•Why do leaders known for integrity and leadership engage in unethical activities?
•Why do they risk great careers and unblemished reputations for such ephemeral gains?
•Do they think they won't get caught or believe their elevated status puts them above the law?
•Was this the first time they did something inappropriate, or have they been on the slippery slope for years?
In these ongoing revelations, the media, politicians, and the general public frequently characterize these leaders as bad people, even calling them evil. Simplistic notions of good and bad only cloud our understanding of why good leaders lose their way, and how this could happen to any of us.
Leaders who lose their way are not necessarily bad people; rather, they lose their moral bearings, often yielding to seductions in their paths. Very few people go into leadership roles to cheat or do evil, yet we all have the capacity for actions we deeply regret unless we stay grounded.
Before anyone takes on a leadership role, they should ask themselves, "Why do I want to lead?" and "What's the purpose of my leadership?" These questions are simple to ask, but finding the real answers may take decades. If the honest answers are power, prestige, and money, leaders are at risk of relying on external gratification for fulfillment. There is nothing wrong with desiring these outward symbols as long as they are combined with a deeper desire to serve something greater than oneself.
Leaders whose goal is the quest for power over others, unlimited wealth, or the fame that comes with success tend to look to others to gain satisfaction, and often appear self-centered and egotistical. They start to believe their own press. As leaders of institutions, they eventually believe the institution cannot succeed without them.
While most people value fair compensation for their accomplishments, few leaders start out seeking only money, power, and prestige. Along the way, the rewards—bonus checks, newspaper articles, perks, and stock appreciation—fuel increasing desires for more.
This creates a deep desire to keep it going, often driven by desires to overcome narcissistic wounds from childhood. Many times, this desire is so strong that leaders breach the ethical standards that previously governed their conduct, which can be bizarre and even illegal
When leaders focus on external gratification instead of inner satisfaction, they lose their grounding. Often they reject the honest critic who speaks truth to power. Instead, they surround themselves with sycophants who tell them what they want to hear. Over time, they are unable to engage in honest dialogue; others learn not to confront them with reality.
Many leaders get to the top by imposing their will on others, even destroying people standing in their way. When they reach the top, they may be paranoid that others are trying to knock them off their pedestal. Sometimes they develop an impostor complex, caused by deep insecurities that they aren't good enough and may be unmasked.
To prove they aren't impostors, they drive so hard for perfection that they are incapable of acknowledging their failures. When confronted by them, they convince themselves and others that these problems are neither their fault nor their responsibility. Or they look for scapegoats to blame for their problems. Using their power, charisma, and communications skills, they force people to accept these distortions, causing entire organizations to lose touch with reality.
At this stage leaders are vulnerable to making big mistakes, such as violating the law or putting their organizations' existence at risk. Their distortions convince them they are doing nothing wrong, or they rationalize that their deviations are acceptable to achieve a greater good.
To this end, I speak truth to POWER! Surround yourself with people who will tell you what you are becoming and make them commit not to lie to you.
AYODEJI OLOGUN is a political analyst, a public speaker and a broadcast Journalist
Disclaimer:

"The views/contents expressed in this article are the sole responsibility of the author(s) and do not necessarily reflect those of The Nigerian Voice. The Nigerian Voice will not be responsible or liable for any inaccurate or incorrect statements contained in this article."