God Called Me To Teach On Morals Says Pastor Daniel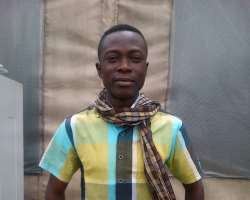 Pastor Daniel Prince is the founder of House of Zion Ministry International and Bright Mind Summit. He is one young Ajegunle pastor using his noble platform to teach on youth morals whose Singles and Married seminar has become a household name in Ajegunle city and beyond.
As a senior staff of one of the government-owned companies, he believes that every pastor must be financially equipped to face the modern-day ministerial challenges in Nigeria. In this brief interview with Mindset Media Limited, Pastor Daniel spoke on how God has been faithful to him over 16 years ago and other sundry issues in the Christian faith.
Excerpts:
Let's meet you sir?
I 'm Pastor Daniel Prince, the founder of House of Zion Ministry International and Bright Mind Summit. I hail from Delta State and had my education in Lagos here. I have been teaching on youth morals for the past 16 years and God has been faithful to me. Teaching on temperament, manner of dressing, purity and other etiquettes are taught in my fellowship. Many youths have morally, physically and spiritually benefitted from this platform over the years in Ajegunle.
When did you get your Bible foundation?
I got born-again at Bible Life Church Cathedral in 1988 and Bishop Leonard Umunna gave me Bible foundation of the Holy Ghost and later proceeded to Patmos Bible College of Bishop Ben Enoch and thereafter went to Bishop Mike Ojo's church to do my IT and I was employed as an Associate Pastor for two years before I had a call to start House of Zion Ministry International to teach on Singles and Married and other moral values among our youths. I have preached in various church seminars, conferences and programmes in Nigeria and other African countries. In terms of deliverance, God has used me to save many homes too.
What is your relationship between you and Pastor Chris Ojigbani?
I had some issues in my life and I needed someone to put me through and when I had Pastor Chris Ojigbani preached, all messages from the scripture. I joined the workforce of Covenant Singles and Married ministry and became the head usher. I was doing the work of God faithfully and selflessly and Pastor Ojigbani noticed it and invited me to his office that was how our relationship started. I have travelled with him to many parts of Nigeria and other African countries. One thing I learnt from him is that, a good marriage is not the absence of conflict ,if there is a conflict, it resolves successfully and other thing I learnt from him is that, Bible says 'Love your wife', you don't love your wife because she submits to you, you love your wife because God commands it to be so.
Have you ever faced any female temptation before?
I have never been tempted by any woman in my life and God has been faithful to me. Though self-disciplined and grace has also helped me in life.
What is your contribution to humanity as a grassroots pastor?
I have helped many young people to fulfil their international trips; anyway, it is a future investment. I have received one award from Pastor Chris Ojigbanji .
What is your advice for upcoming pastors in Nigeria?
Every young pastor should learn to serve and be committed to God's work.