JONATHAN APPEALS TO LAWMAKERS TO PASS ANTI-CORRUPTION LAW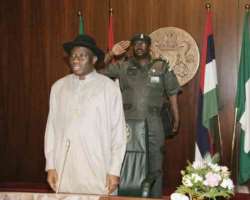 By Ini Ekott
April 21, 2010 01:58AM
The Acting President, Goodluck Jonathan, has urged the National Assembly to quicken its delivery of two key executive-sponsored legislations, namely: the anti-corruption bill and the anti-terrorism bill, which are expected to help turn around his brief administration.
In a fresh correspondence with the Senate and the House of Representatives, Mr. Jonathan expressed his concern that the two bills be passed into law before the end of June.
'Given this administration's commitment to combat corruption and terror and boost the country's economic development, a blacklisting by the Financial Action Task Force (FATF) will no doubt seriously hamper these laudable efforts,' the acting president wrote in a letter read yesterday in the House of Representatives. The letter is dated April 8, 2010, a few days before he travelled to the United States of America where he made renewed commitments to combat the two issues. 'Mr. Speaker and the respected Honourable members of the Federal House of Representatives are therefore, kindly requested to ensure the passage of the two bills into law before the end of June, 2010,' Mr. Jonathan concluded.
The two bills were introduced at the National Assembly in 2009 and have both reached the committee stage after passing the second reading.
Getting back on track
Mr. Jonathan recalled that in October 2009, ailing President Umaru Yar'Adua constituted a Presidential Inter-Ministerial/Agency Committee to engage the global task force and review Nigeria's deficiencies in tackling money laundering and possible funding of terrorist activities. The engagement, according to the acting president, observed a lack of comprehensive anti-terrorism laws in the nation, as well as an absence of the FATF's recommended standard provisions in the existing anti-money laundering law.
At its last meeting with the FATF in Bahrain in February this year, Nigeria promised to address the issues raised before June 30 2010 through the passage of the two legislations currently at the National Assembly. Mr. Jonathan noted that this was not the nation's first attempt at complying with the FATF's strictures. An earlier promise by Mr. Yar'Adua had assured the bills would be ready before the end of 2009.
Close to deadline
With about two months to the deadline, the acting president told the lawmakers that if Nigeria defaulted on its latest vow, it could be blacklisted again by the FATF and face potentially stifling economic consequences. 'It will frustrate and hamper legitimate international financial transactions flowing from Nigeria. Some countries will not honour international financial instruments emanating from Nigeria, including letters of credit,' the acting president explained. 'International investors will be scared to invest in Nigeria, and those willing to do so will request for the most stringent conditions. Nigeria's international image will be highly dented as a country without the political will to cooperate in the global war on terror.'
Source http://234next.com/ www.234next.com