Past govt spent N2bn to fix National Theatre roof — FG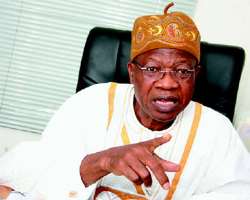 The Minister of Information, Mr. Lai Mohammed, has said a past administration spent N2bn for the repair of a leaky roof at the National Theatre.
The minister made the revelation on Saturday during a courtesy visit to Prof. Wole Soyinka in his office at the Freedom Park in Lagos.
Mohammed, who lamented the poor state of the edifice, however, did not say which administration spent the amount.
He said he could not say for sure if the money was actually spent.
Mohammed added that the Federal Government was planning to initiate a Public-Private Partnership that would help transform the theatre to become the pride of the nation.
Sponsored Advert:
VACANCY! VACANCY!! VACANCY!!!
Job Position: Chief Accountant at an Agro-Allied Conglomerate in Delta State
Click here for details
Soyinka, in his speech, said President Muhammadu Buhari was fighting the biggest anti-corruption war in Nigerian history.
He also commended the progress the President has so far made in the fight against graft especially in the $2.1bn arms scam.
The playwright said it was unfortunate that during the Goodluck Jonathan administration, money earmarked to fight terrorism was embezzled while children were abducted and soldiers sent to the warfront to combat terrorists without arms.
When asked if the anti-corruption war would stop abruptly like those of previous administrations, Soyinka said, 'I don't think that will happen this time and the reason is this: We have not had corruption being exposed on this scale before. We have not had a situation where it is being alleged and increasingly proved that money which was supposed to have been spent on defending our nation, ourselves and our neighbourhood has been shared among individuals.
'We have never had the experience where we were in a state of critical emergency where children were being kidnapped under our noses and we were helpless and our soldiers were being sent to the warfront to defend our very existence and we were not backing them up with conduct that shows integrity and commitment.
'During the civil war, I am not aware, may be it existed on this scale, I am not aware but I am just saying that as somebody that has gone through a civil war, even though some of us spent it in prison, I have not heard such exposé.'
Soyinka noted that the anti-graft war would not be easy because whenever anyone fights corruption, corruption fights back.
He, however, said plans by corrupt individuals to frustrate the anti-graft war would only intensify the war.
Asked if the anti-graft war would yield positive results, he said, 'Yes, I am confident. I promise you that if I am proven wrong, I will give you my best bottle of wine.'
Reacting to allegations levelled against him by the Governor Nyesom Wike-led Rivers State Government that he partook in the sharing of N84m allegedly mismanaged by former Governor Rotimi Amaechi, Soyinka said the allegation was insulting.
He said he was waiting for an invitation letter from the Economic and Financial Crimes Commission.
The Nobel laureate, however, joked that he would pretend to be sick if they attempted to whisk him away.
He added, 'Anybody who wants to talk to me about this issue, as I said, you know where I live, I am a great respecter of the law. If you go properly, I will answer your invitation.'
Meanwhile, Niger Delta activist, Ms. Annkio Briggs, has criticised the revered playwright for his reaction to Wike's allegation against Amaechi on how he spent N82m.
Soyinka, in a statement titled 'Those who flounder in the sewage of corruption,' on Thursday, had described the allegation as a distraction and a sign of insecurity on the part of Wike.
Briggs, in a telephone interview with SUNDAY PUNCH, supported Wike, arguing that the governor's allegation was raised against Amaechi, who is now the Minister of Transportation, and not Soyinka.
She said, 'This is not a criticism about Soyinka per se. It is simply about facing the reality in Nigeria today. It is about the funds of Rivers State and how it was spent in Amaechi's tenure and the fact that Wike is bringing up the issue today is exactly and precisely what the President of Nigeria is also doing. So, I do not believe the criticism that is being meted out on Wike is justified.'' Punch