Gun violence as national crisis, by Barack Obama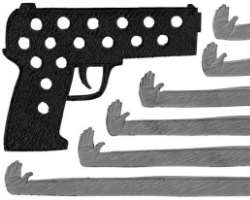 THE epidemic of gun violence in our country is a crisis. Gun deaths and injuries constitute one of the greatest threats to public health and to the safety of the American people. Every year, more than 30,000 Americans have their lives cut short by guns. Suicides. Domestic violence. Gang shootouts. Accidents. Hundreds of thousands of Americans have lost brothers and sisters, or buried their own children. We're the only advanced nation on earth that sees this kind of mass violence with this frequency.
A national crisis like this demands a national response. Reducing gun violence will be hard. It's clear that common-sense gun reform won't happen during this Congress. It won't happen during my presidency. Still, there are steps we can take now to save lives. And all of us — at every level of government, in the private sector and as citizens — have to do our part.
We all have a responsibility.
Continue reading the main story
RELATED IN OPINION
Editorial: End the Gun Epidemic in AmericaDEC. 4, 2015
On Tuesday, I announced new steps I am taking within my legal authority to protect the American people and keep guns out of the hands of criminals and dangerous people. They include making sure that anybody engaged in the business of selling firearms conducts background checks, expanding access to mental health treatment and improving gun safety technology. These actions won't prevent every act of violence, or save every life — but if even one life is spared, they will be well worth the effort.
Even as I continue to take every action possible as president, I will also take every action I can as a citizen. I will not campaign for, vote for or support any candidate, even in my own party, who does not support common-sense gun reform. And if the 90 percent of Americans who do support common-sense gun reforms join me, we will elect the leadership we deserve.
Continue reading the main story
RELATED COVERAGE
President Obama answered an audience member's question during a live event with CNN's Anderson Cooper at George Mason University in Fairfax, Va.At Televised Town Hall Event, Obama Pleads for Stricter Gun LawsJAN. 7, 2016
All of us have a role to play — including gun owners. We need the vast majority of responsible gun owners who grieve with us after every mass shooting, who support common-sense gun safety and who feel that their views are not being properly represented, to stand with us and demand that leaders heed the voices of the people they are supposed to represent.
The gun industry also needs to do its part. And that starts with manufacturers.
As Americans, we hold consumer goods to high standards to keep our families and communities safe. Cars have to meet safety and emissions requirements. Food has to be clean and safe. We will not end the cycle of gun violence until we demand that the gun industry take simple actions to make its products safer as well. If a child can't open a bottle of aspirin, we should also make sure she can't pull the trigger of a gun.
Yet today, the gun industry is almost entirely unaccountable. Thanks to the gun lobby's decades of efforts, Congress has blocked our consumer products safety experts from being able to require that firearms have even the most basic safety measures. They've made it harder for the government's public health experts to conduct research on gun violence. They've guaranteed that manufacturers enjoy virtual immunity from lawsuits, which means that they can sell lethal products and rarely face consequences. As parents, we wouldn't put up with this if we were talking about faulty car seats. Why should we tolerate it for products — guns — that kill so many children each year?
Advertisement
Continue reading the main story
Advertisement
Continue reading the main story
At a time when manufacturers are enjoying soaring profits, they should invest in research to make guns smarter and safer, like developing microstamping for ammunition, which can help trace bullets found at crime scenes to specific guns. And like all industries, gun manufacturers owe it to their customers to be better corporate citizens by selling weapons only to responsible actors.
Continue reading the main story
RECENT COMMENTS
Peter Vander Arend 5 minutes ago
Thank you, Mr. President. I am incredibly proud to have your leadership and stewardship of a very thorny, and sometimes down-right…
Jonathan Ryweck 5 minutes ago
Barack Obama, in his second term, is emerging as the great leader that we had hoped for and longed for, but due to OJT issues sometimes…
Joanne Rumford 5 minutes ago
This may be an issue of witness protection programs. Something not mentioned for gun control issues. If a mental health issue how many are…
SEE ALL COMMENTS WRITE A COMMENT
Ultimately, this is about all of us. We are not asked to perform the heroism of 15-year-old Zaevion Dobson from Tennessee, who was killed before Christmas while shielding his friends from gunfire. We are not asked to display the grace of the countless victims' families who have dedicated themselves to ending this senseless violence. But we must find the courage and the will to mobilize, organize and do what a strong, sensible country does in response to a crisis like this one.
All of us need to demand leaders brave enough to stand up to the gun lobby's lies. All of us need to stand up and protect our fellow citizens. All of us need to demand that governors, mayors and our representatives in Congress do their part.
Change will be hard. It won't happen overnight. But securing a woman's right to vote didn't happen overnight. The liberation of African-Americans didn't happen overnight. Advancing the rights of lesbian, gay, bisexual and transgender Americans has taken decades' worth of work.
Those moments represent American democracy, and the American people, at our best. Meeting this crisis of gun violence will require the same relentless focus, over many years, at every level. If we can meet this moment with that same audacity, we will achieve the change we seek. And we will leave a stronger, safer country to our children.
Barack Obama is president of the United States. This article originally appeared in New York Times as 'Barack Obama: Guns Are Our Shared Responsibility'
Disclaimer:

"The views/contents expressed in this article are the sole responsibility of the author(s) and do not necessarily reflect those of The Nigerian Voice. The Nigerian Voice will not be responsible or liable for any inaccurate or incorrect statements contained in this article."