ESUT: Ugwuanyi orders payment of disengaged workers …inaugurates new governing council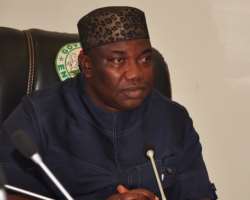 Governor Ifeanyi Ugwuanyi of Enugu State has ordered the full payment of salaries owed to the recently disengaged 153 staff of the Enugu State University of Science and Technology (ESUT).
The governor gave the directive while inaugurating the newly reconstituted governing council of the university which has the Catholic Bishop of Nsukka Diocese, Most Rev. Prof Godfrey Igwebuike Onah as Pro-Chancellor and Chairman.
Governor Ugwuanyi noted that his administration took the decision in line with its promise to alleviate poverty and ameliorate suffering of the people, especially those who were recently disengaged by the institution, adding that it will help to bring to an end the persistent complaints and discontent of the affected staff and concerned members of the society over the matter.
The governor who said that the management of the institution will provide 50% of the total sum for the payment of the salaries, while government provides the balance of 50%, expressed confidence that the members of the council will deploy their proven competence, knowledge and experience to take ESUT to the pinnacle of intellectual and technological excellence.
He reinstated the commitment of his administration to sustain the current momentum of progress of the institution and assured that the welfare of the students of ESUT will remain the cardinal objective of the government.
Sponsored Advert:
VACANCY! VACANCY!! VACANCY!!!
Job Position: Chief Accountant at an Agro-Allied Conglomerate in Delta State
Click here for details
In his address, the Chairman of the council, Most Rev. Prof Onah thanked the governor for the confidence reposed in members of the council to serve the state and assured him of their collective resolve to collaborate with his administration go lift the institution to an enviable height
Other members of the council include Monsignor Professor Obiorah Ike, His Royal Highness Igwe Prof Sampson Ukpabi and Lady Jane Udewo Nnamani.  Others are Prof Emmanuel Ezeugwu, Dr. Carol Nwakeago Obayi and Mrs. Patricia Mgbaonyere Nwobodo.
The Vice Chancellor of the institution, Prof Luke Anike will server in the council as an ex-officio member while the Registrar of the University, Mr. Leonard Kama serves as the Secretary.