Rivers State Government may ask Prof Wole Soyinka to refund N82m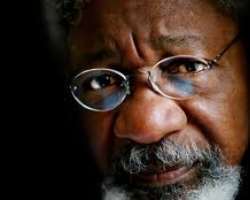 Rivers State  will write the Nobel Laureate Professor Wole Soyinka to demand   a refund of the N82 million spent by former Governor Amaechi on a dinner in honour of him, the state's  Information Commissioner , Dr Austin Tam-George, has said..
Tam-George, however, said that the action would depend on the confirmation that the Nobel Laureate received part of the the funds in cash.
Speaking  a radio programme on Wednesday in Port Harcourt, the commissioner said, "I will seek the permission of the Governor to formally write Professor Wole Soyinka, a known supporter of Amaechi if he received part of the N82million spent on a 3-hour Dinner hosted for him by the Amaechi administration.
"If he agrees that he received such funds, then he will be compelled to refund same to the coffers of Rivers State. At present, we have presented these details to the Police for investigation and prosecution. We shall also take up this matter as a financial crime against the people of Rivers State. "
According to him, all the actions of the former governor which fell short of demands of transparency are being addressed by the Wike administration, pointing out that it will take time for the legal process to be completed because they are financial crimes.
He said said that Former Governor Amaechi betrayed the trust of Rivers people by embarking on irresponsible expenses, which led to the mismanagement and fraudulent misuse of N3trillion that accrued to the state under his watch.
Tam-George explained  that the point of departure between former Governor Amaechi and Governor Nyesom Wike was the insistence of Governor Wike that Amaechi observed probity and accountability in all governmental actions, an advice that was thrown overboard by the former governor .
He regretted that the Amaechi's administration using the Ministry of Information and Communications headed by Ibim Semenitari amassed N1.1billion debt on frivolous expenditure.
Governor Nyesom Ezenwo Wike, the commissioner said,  had to leave the Amaechi administration when the former governor refused to adhere to patriotic advice to use Rivers State resources to develop the state.
Former Rivers State Governor, Rotimi Amaechi left several months unpaid salaries, pensions abandoned projects and scholarships despite receiving N3 trillion as revenue under his watch.
"The point of departure between Former Governor Amaechi and Governor Nyesom Ezenwo Wike was Wike's commitment to probity and accountability. Governor Wike refused to be part of the financial mismanagement of resources that accrued to the state, he further explained.
He said that already Rivers people are witnessing the proper use of resources as they are witnessing transformations across the landscape.