Fg, Labour Agree Over Fuel Subsidy Removal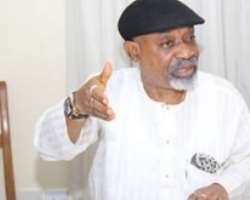 SAN FRANCISCO, January 05, (THEWILL) – There are speculations that the Federal Government and the leadership of the Nigeria Labour Congress (NLC) may have reached a compromise on the removal of fuel subsidy.
This was confirmed by Dr Chris Ngige, Minister of Labour and Employment, who brokered the truce during a chat with Ayuba Wabba, president of the NLC on Monday.
Ngige, who gave the hint while addressing Governor Adams Oshiomhole of Edo State on Tuesday, disclosed that the fuel subsidy was not provided for in the 2016 Appropriation Bill presented to the joint session of the National Assembly by President Muhammadu Buhari on Tuesday, December 22, 2015.
"Just like the fuel subsidy palaver now, they said oh, subsidy is removed Minister of Petroleum is doing double talk. I've explained to the president of NLC saying no, the subsidy is not in our budget because there is no subsidy to do now," he said.
"If there is any need for subsidy to be done now, there are provisions in appropriation to be done, through what we call supplementary appropriation. After all, the last supplementary appropriation sent to National Assembly for which Mr President signed into law, was for all the subsidies from 2014 and even part of 2013 of the Jonathan's administration.
"So, there should be no cause for alarm. There is no need for budgeting for subsidy now and it should not be there. When there is need for it, the government knows what to do. Labour should be discussing with us because the two of us are chief labourers," Ngige said.
The minister, who described the spate of unemployment as 'alarming,' stressed the need to declare national emergency on unemployment, stressing that there were a lot of reported stampede at state office of Federal Ministry of Labour over the employment scam on social media.
Ngige, who reiterated President Muhammadu Buhari's commitment towards alleviating the sufferings of Nigerians, unveiled plans to ensure completion of all abandoned skill acquisition centres initiated by the Federal Government through the office of the MDGs as well as those initiated by state governments.
Oshiomhole at the meeting raised an alarm over the influx of 'prisoners' who were granted 'tourism visas' but working in the construction industry across the country.
"As you go round the country you find a lot of expatriate, unskilled expatriates doing jobs that unskilled Nigerians can do. I believe this is absolutely unacceptable and I believe that honourable minister liaising with your brother in the ministry of internal affairs, to review the attitude to expatriate quota. But what we are dealing with here is not even expatriate quota," he said.
"I have concrete evidence that there are prisoners working in Nigeria, foreigners sending their prisoners to work in Nigeria. This is not only a breach of international labour laws, even prison labour does not support production of goods and services to be sold not to talk of allowing prisoners to visit other countries under the guise of tourist visa and they end up working in construction sites, sleeping in round shackle, made-shift containers when so many of our people are idle.
"If you go to different parts of the state you find most of these people doing very menial jobs. One doesn't need to tell you that these are not expatriates, these are prisoners and I feel it's a serious diplomatic issue and for a country that is bulged down by unemployment, Nigeria cannot be a dumping ground for prisoners."
Oshiomhole assured Nigerians of the Buhari's administration resolve to prioritize job creation, fight against corruption and economic development.
He also tasked the Ministry on the need to resuscitate the health and safety units as well as labour centres in all the 36 states of the federation which will be responsible in collation of data of unemployed and employed citizens.
"For example we want to deal with jobs, but we don't know how many people are unemployed and there are no locations for unemployed people to report.
"We were registered those of us who want to acquire trade, we were encouraged to enrol for one apprenticeship or the other, the ministry carried out regular trade test, do proper grading of skilled, semi-skilled and produce some competent manpower without going to universities or polytechnics.
"I believe sir that this is one area we have neglected over the years and given the commitment of this government to job creation, we need to re-establish those units in all the states of the federation, possibly in every local government for people who are qualified to work, who are able to work and wish to work to register," he advised.
Oshiomhole who expressed concern over the state of the nation, said: "It's a country where people make money without money and those who work made nothing. So no one needs to over-emphasise the huge challenges before you.
"It's a time when the country is undergoing serious changes, some externally imposed, some arising from incompetence in government in the very recent past which has raised our debt profile, decline in education and labour relations."