Rivers PDP Chairman, Bro Obuah Congratulates Ogonis For Successful Celebration Of Ogoni Day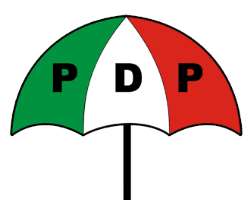 The chairman of Rivers State chapter of the Peoples Democratic Party, PDP, Bro Felix Obuah has once again given the Ogoni people a pat on the back for a successful celebration of the 23rd Ogoni Day.
The Ogoni people according to a statement by the State PDP chairman and signed by his Special Adviser on Media and Publicity, Jerry Needam, need to be specially appreciated for keeping the Ogoni dream alive despite concerted efforts by certain opposition Ogoni politicians to sacrifice the collective interests of the people at the altar of self-interest and mediocrity.
As a focused and resilient people, the Ogonis, Bro Obua noted, have commendably stood their ground not to be deceived by the friends of their exploiters who disguise as opposition political leaders to consolidate their life time ambition of mortgaging the Ogoni oil, using their friends, and policy makers at the centre.
The State PDP boss said one good thing however, is that the Ogonis are wise enough to know that as Cameleon never changes its colour, these military apologists of yester-years and enemies of the people in opposition political regalia today could not have turned a new leaf overnight to become the people's messiah as they are pretending to be.
While commending the Ogonis for their steadfastness and strong support for the PDP and Governor Nyesom Wike, Bro Obuah hopes that the tempo will be maintained even as the State goes into re-run elections for some seats at the State and National Assemblies.
According to him, the PDP remains the best bet for the Ogoni people irrespective of the antics of the opposition political leaders in the area, who are ab-initio, the perpetrators of deprivations and degradations being suffered by the Ogoni people and are far from repenting from their evil ways.
"The Wike administration is Ogoni driven and has the interests of the Ogoni people on the front burner which no political propaganda or malicious hypocrisy can erase. We therefore urge you to be alert and do not allow these representatives in opposition and, or stooges of your slave masters to confuse you.
Prove them wrong by consigning them into the waste basket of political irrelevancies and consolidating your mandate for the PDP.
Once more, congratulations and remain undistracted", the State PDP chairman declared.
Signed:
Jerry Needam
Special Adviser on Media and Publicity
To the Rivers PDP Chairman, Bro Felix Obuah
Tuesday, January 5, 2016